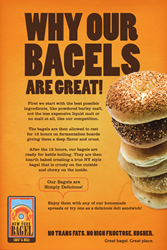 Great Bagel Great Place
Hackensack NJ (PRWEB) April 24, 2017
NY Bagel Café & Deli, a major franchise in the breakfast and lunch industry, is continuing its Southeast Expansion. After successful and continuing expansion in the State of North Carolina, NY Bagel Café has since begun expansion into South Carolina, Georgia and Florida. Currently, NY Bagel Café has a location on Singer Island in West Palm Beach with additional locations opening in St. Augustine, Miami and Spring Hill. In response to the positive feedback received, NY Bagel Café will continue to offer franchise opportunities across the country. Prime areas are available nationally with single and multi-unit opportunities obtainable.
NY Bagel Café & Deli is an easy and workable system that is simple to learn. NY Bagel Café franchisees receive complete training and counsel every step of the way. Site selection recommendations and lease negotiations are built into the support system. The typical layers of support are consolidated into a small group with accessibility to the CEO, whereas other operations have several layers of management and varied support within their structure. NY Bagel Café strives to provide franchisees with the best tools and knowledge to run a successful local business and encourages owners to learn the skills that will allow them to own multiple units.
NY Bagel Café is well known for real NY bagels baked fresh daily in all locations across the country. Aside from the 20 different varieties of Artisan bagels, NY Bagel Café also offers bialys, flagels, bagel sticks and a line of gluten-free bagels. NY Bagel Café offers high quality food using fresh ingredients such as real eggs (not microwaved) in our breakfast sandwiches, fresh produce for salads and 100% crushed fruit smoothies. NY Bagel Café isn't just great bagels either. NY Bagel also offers wraps, Panini sandwiches, knishes and Hot Pastrami sandwiches, a NY deli staple.
About NY Bagel Café & Deli
NY Bagel Café & Deli is the brainchild of Joe Smith, an enterprising upstate New Yorker who saw the opportunities back in 1994 for making inroads in the franchise fast-food market. Take a proven commodity – everyone's favorite "light" meal, the bagel – and then take it one step further. Offer the original New York bagel, and create a cornerstone for a bagel franchise…without the typical franchise bagel taste. Then structure the business for ease of investment and operation, and "spread the wealth" with other motivated self-starters.
You'll find that NY Bagel Café & Deli runs rings around other bagel shops with a delicious array of complementary foods like popular Boar's Head deli meats and cheeses, the smoothest flavored cream cheeses, succulent smoked salmon and richly brewed gourmet coffees. How about Panini sandwiches, popular wrap sandwiches, freshly prepared salads and fresh baked goods? We feature REAL NY Water Bagels and Bialys baked fresh every day.
Currently, there are 10 locations across the country and more under development. The concept is primed for development anywhere people love a great bagel. How about your hometown? Come join us. We're looking to "Spread the Wealth!"