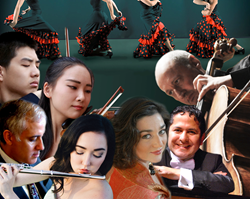 Misha Quint is "brilliantly accomplished virtuoso - an embodiment of interpretive and executive music-making at its rarefied best," ~ Harold Goldsmith
New York, New York (PRWEB) April 24, 2017
Internationally acclaimed Russian-born American cellist Misha Quint will be featured in concert at Carnegie's fabled jewel-box Weill Recital Hall on Thursday, May 11th at 8pm. Under the auspices of the InterHarmony® International Music Festival, this season closer in Manhattan will be a varied evening of romantic Latin music themed "Flamenco, Tango, and Jazz." True to InterHamony®'s mission, this night offers a rich mix of the well-loved and the unusual, performed by globally renowned artists and brilliant young musicians on their way.
From arias of Bizet's Carmen and instrumental selections of Granados, Piazzolla, Falla, Casals, and Sarasate, there will also be more contemporary music of Ginastera, the Russian Rodion Shchedrin's tribute to Albeniz, and Englishman Michael Mower's witty Flute Sonata Latino. Tickets are $40, and can be purchased by calling CarnegieCharge at 212.247.7800, at the Carnegie Hall box office located at West 57th and Seventh Avenue, or online at http://www.carnegiehall.org.
Misha Quint, neatly described by the late distinguished critic Harris Goldsmith as a "brilliantly accomplished virtuoso - an embodiment of interpretive and executive music-making at its rarefied best," will be joined in solo sets by operatic soprano Anya Fidelia, lauded by the New York Times' Anthony Tommasini with "Anya Fidelia... put the role across in an intense and appealing performance."
Also showcased will be one of South America's most distinguished pianists, Ecuadorian Washington Garcia who has concertized around the world. Supporting the next generation, InterHarmony® presents the Carnegie Hall debuts of prize-winning flutist, Elyse Davis, finishing her DMA at FSU, and the accomplished violinists Sicong Chen and Jingting Liu, classmates at ASU. New York veteran Eduard Laurel will provide the accompaniments.
InterHarmony® International Music Festival, based in New York City, has imprints in Florida, The Netherlands, The Berkshires, and San Francisco, and summer residencies in the picturesque European cities of Sulzbach-Rosenberg, Bavaria, Germany and Acqui Terme, Piedmont, Italy. Concerts are presented where wonderful young talents can take flight under the tutelage of music's greatest artists. More information can be found at http://www.interharmony.com.
Please join us for our Hispanic celebration with an international cast this 11th of May. Olé!