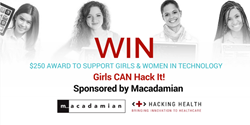 Macadamian is proud to support this initiative given the historical under representation of women in technology.
Ottawa, Ontario (PRWEB) April 25, 2017
On April 28th, a team of four girls aged 16 to 17, sponsored by Macadamian, will be participating in Hacking Health's #HIP613 HACKATHON. Hacking Health is a nonprofit that aims to break down the barriers to healthcare innovation. They are hosting Ottawa's first healthcare hackathon. Over the course of 3 days healthcare professionals, IT, designers, policy analysts, entrepreneurs and students will be brought together to create solutions to improve healthcare.
"Macadamian is proud to support both girls in STEM and women in technology. In our efforts to design and build healthcare solutions that both empower and improve people's lives, we recognize the need for a diversity in contributions. Women have historically been underrepresented in technology which is why we feel so strongly about supporting this initiative," says Lorraine Chapman, Senior Director Healthcare, Macadamian.
As part of a program from Technovations called Girls for a Change, the team of girls will be working with Mark Walker, a software development mentor from Macadamian to help them dream up and create a solution to a real world healthcare problem. The winning team will be awarded the Macadamian "Girls CAN hack" award and will also have the potential opportunity to work with Macadamian and CHEO to bring their concept to life.
"We're excited to support the development of the next generation of female STEM leaders with Macadamian this weekend by exposing them to real world problems and the technology to help solve them. Diversity in our workforce is a major driver of creativity and innovation," said Haidee Thanda, Founder and Lead, Hacking Health Ottawa.
Technovation is a global program that offers girls around the world the opportunity to learn the skills they need to emerge as tech entrepreneurs and leaders. Teams of girls are invited to identify a problem in their community, and are challenged to solve it. Girls work to build both a mobile app and a business plan to launch that app, supported by mentors and guided by the curriculum. Technovation takes students through 4 stages of launching a mobile app startup, inspired by the principles of design thinking.
About Macadamian (http://www.macadamian.com)
Macadamian is a full service user centred software design and development firm. From product ideation to market ready – and everything in between, we provide a complete range of usability, design and engineering services. From healthcare to mid size enterprises; our solutions are founded in research-informed design first while leveraging the cloud, big data, and Internet of Things to deliver context-aware and adaptive experiences. Macadamian is headquartered in Gatineau, Canada and also has offices in the United States, Armenia, and Romania. Visit http://www.macadamian.com or contact via phone at +1 877 779 6336.