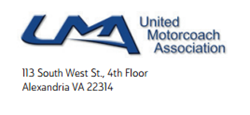 "United Motorcoach Association members are tired of being overregulated and underappreciated for the essential value they bring to the economy," said Dale Krapf, Chairman of UMA and Krapf's Coaches
Washington, DC (PRWEB) April 25, 2017
The United Motorcoach Association (UMA) is pleased to announce that more than 70 bus and motorcoach operator CEOs and senior executives are in Washington DC this week to participate in UMA's Capitol Hill Days today and tomorrow. Members will take part in more than 300 individualized appointments to meet with Congressional elected officials to discuss key legislative issues affecting the motorcoach industry.
UMA's key message points for Congress this year will be focused on policies that are considered by the industry as regulatory overreach, and advocacy for modernization and streamlining of Federal regulations to result in increased safety, growth for the industry, and growing business opportunities for private operators to participate in their communities' local transit and commuter programs.
"United Motorcoach Association members are tired of being overregulated and underappreciated for the essential value they bring to the economy," said Dale Krapf, Chairman of UMA and Krapf's Coaches. "Every day, millions of people board motorcoaches to access jobs, healthcare, education, and tourism; each motorcoach represents 3.4 direct employment jobs and brings $7,000 - $11,000 in daily revenue to the communities in which they overnight. A key objective for today is to leave no doubt in our elected leaders' minds of the important economic impact our members make each day across the U.S."
The motorcoach tour and travel industry contributes nearly $112.7 billion in total economic activity and has one of the strongest safety records among all modes of transportation.
About UMA
The United Motorcoach Association is North America's largest association for operators of motorcoach companies providing charter, tour and regular route services. Founded in 1971, UMA is comprised of over 900 professional bus and motorcoach companies who provide transportation services in all fifty states, Canada and Mexico, and more than 250 supplier, manufacturer, and travel partner members. Headquartered in Alexandria, VA, UMA is dedicated to protecting and promoting the interests of the entire motorcoach industry and providing its members with programs and services to enhance the success of their operations. More information can be obtained by visiting http://www.uma.org.