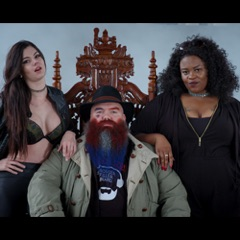 My mama always said when I cried as a baby it sounded like a song
Memphis, TN (PRWEB) April 25, 2017
Weird Al Yankovic may just be caught up in a Game Of Thrones situation. With Marty Ray Project churning out viral parodies like: "All About That Beard", "All My Friends Are Bearded", and now "Bad and Beastie," he could soon claim the Iron Throne of parody creators. It all started when he heard "All about That Bass" by Meghan Trainor while riding back from the studio with his guitarist. Having never heard the song, Marty and his guitarist have always given any song at least one play through before judging it, "The song came on and we turned it up and jammed to it. I thought it was awesome how the record labels were allowing a plus sized woman to sing about it proudly, after all, I am a plus sized fella." After the song had ended his guitarist jokingly said, "You're 'All About That Bass' and beard." Marty thought about that and within a week "All About That Beard" was written. Shortly after the song was recorded Marty produced a music video for it and that began a very prosperous journey in his music career.
Truthfully, Marty Ray Project is quite a ways from reaching the success that Weird Al Yankovic has achieved in his forty plus years in the game but, he has a pretty good jump start with the millions of views that he has amassed online. After "All About That Beard" went viral, Marty began to garner many new fans from all over the globe. He used this opportunity to share covers of many classic and modern songs from a plethora of genres while sprinkling in his original songs as well. He always puts his own personal spin on whatever song he sings, or raps. One of the covers gained over 30 million views and ended up landing Marty on a stage in Miami, FL with THE Vanilla Ice. In case you did not catch what song I meant, it was, of course, "Ice Ice Baby" and the momentum that was created by it is still building today.
After many covers, and originals, gaining millions of views through a span of 5 years, Marty learned how to market and build his brand, which led to other brands taking notice; one brand in particular would turn out to be a "match made in heaven." The owner and CEO of Beardilizer, Laurent Cohen, saw something special in Marty and knew he wanted to partner up with him immediately, and not just for his majestic beard. Laurent was at that very show where Marty and Vanilla Ice sang and rapped together to an acoustic version of "Ice Ice Baby" and after hearing it, Laurent made it a point to meet with him at the after party to discuss a partnership between them. Beardilizer manufactures beard care products such as: oil, balm, conditioner cream, shampoo, etc., so the partnership made sense on both accounts.
Through this new sponsorship it was time for Marty to put on the Beardilizer teeshirt, cap, and oil and think up fresh ways to market not only his brand but, Beardilizers as well. He decided to proselytize them simultaneously through clever parody videos since that had worked in the past. The first one was to really take off was a parody of Twenty One Pilots hit song "Heathens" titled, "All My Friends Are Bearded". It has over 10 million views collectively to date and has become an anthem for "beardos" all around the world, even Tyler of Twenty One Pilots liked it. Marty also wrote an all original Beardilizer song called "I Can Grow A Beard" that gained over 4 million views. As you can see the satirical plan of marketing has paid off thus far.
Which brings us to the point of this article, "Bad and Beastie." For this new release Marty was inspired by the very place that his music video production day began, his first video ever. The very first video Marty posted was a comedy rap song titled "Phat Girl" for which the music came from an iPhone app. It was not a parody but it was definitely funny and Marty, his little brother Jordan, and his cousin Justin acted out the video masterfully in front of a flip camera, the latest technology in 2006. The video was not the greatest quality but it got the message across and people enjoyed it all the way up until it was removed for copyright because of the music that came from the app. At the time it felt tragic for the guys Marty says, "I remember it being pulled right when it hit 50,000 views. We thought we were about to be big timers." The viral fever struck Marty at that time and he knew he had to produce more videos. That video is the only reason almost 300,000 people on Facebook and over 100,000 people on Youtube even know who Marty Ray Project is.
"Bad and Beastie" is, not only a great parody of "Bad and Boujee" by Migos but its, a homage to Marty's beginnings on social media. When you hear Marty's take on songs it is like the song has been given brand new life. As cliché as that sounds its true. He makes you rethink your love for the original with such reflection that you almost forget that it is not actually his own song. You find that when you want to hear that particular song again it has to be his version because, for whatever reason, there seems to be more feeling in it. With all the songs that are full of feeling and soul, "Bad and Beastie" is a light-hearted, fun, bearded rendition of a song that otherwise I probably would not listen to. From the very first line it is evident that this is not the typical Marty Ray Project song. At first it is shocking to hear this bearded country boy rapping as good as many mainstream hip-hop artists today, even better than some, but, when you hear the lyrics accompanied by the visuals it is ridiculously funny and you cannot help but to laugh. Needless to say it is an enjoyable music video all the way to the end where even Santa Claus gets some rapping in. Do not miss this Marty Ray Project masterpiece or any of the others, I promise you will regret coming late to the party. Marty Ray Project is on YouTube, Facebook, Twitter, and Instagram, I mean, who isn't now days though. Support the artist from your city and be a part of something special.
Subscribe to Marty Ray Project to see "Bad and Beastie" and a lot more, https://youtu.be/s_UCKswMKQ4
Follow everything Marty Ray Project here, https://www.facebook.com/martyrayproject/
Skylar Wayne
Freelance Music Writer