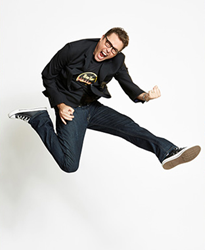 New York, NY (PRWEB) April 24, 2017
Real Big Hits is developing and promoting four new television and streaming reality series with Deke Sharon. Tune Up is a rescue series about struggling a cappella groups. Top Note pits amateur singing groups against well-established professional groups. Teach the World to Sing is an international exchange and competition series. A Cappella International is an international a cappella singing competition for worldwide streaming.
Wendy Wang, CEO of Empress commented, "Deke is the leading figure behind the a cappella explosion that generated mega groups like Home Free, Straight No Chaser, and Pentatonix. We are excited to work with him as he seeks to develop the next generation of talent." Sharon said, "There are more amazing a cappella groups around the world than ever before, and I can't wait to introduce them to a new audience."
For more information visit http://www.realbighits.com.
About Deke Sharon
"A one man a capella revolution" (Boston Globe), Deke has been the arranger, on-site music director, coach, and vocal producer for Universal's Pitch Perfect movie franchise, the producer of NBC's series The Sing Off, and an on-camera coach for Lifetime's Pitch Slapped. He will be producer for the upcoming BBK UK singing competition Pitch Battle. He was the vocal orchestrator, music director and producer for In Transit, Broadway's first a cappella musical. He has created or been involved with House Jacks, Voasis, and groups at Disneyland and Walt Disney World. He has arranged over 2,000 songs and produced dozens of albums. He has been an advocate and mentor for many groups. He has written or cowritten five books.
About Real Big Hits
Real Big Hits, is a leading global content market place with a traditional sales agency approach. The RealBigHits.com portal is built on proprietary eMAM™ platform developed for Turner Broadcasting six years ago. Today it powers some of the largest broadcasters in the world, including Cartoon Network, CBN, Discovery, HBO, Ideas del Sur, truTV, TBS, TNT, Warner Brothers, and Cisneros. Real Big Hits works with its global network of thousands of buyers to provide talented creatives and companies worldwide with funding, co-production, licensing and sales of their creative content. Real Big Hits is a member of the Empress family of closely held companies which includes Empress Media Asset Management, the author of eMAM software and developer of workflow solutions, Empress InfoTech, a software and database development company, and Empress Digital, a leading American distributor for recording media since 1998.