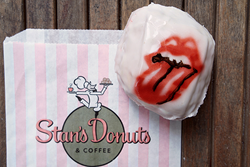 "We are honored to be asked to partner with Exhibitionism- The Rolling Stones," says Chief Doughboy, Rich Labriola.
CHICAGO (PRWEB) April 22, 2017
Stan's Donuts & Coffee is excited to announce its special edition Exhibitionism- The Rolling Stones Donut to celebrate The Rolling Stones first ever major exhibit, which is now in Chicago after making its US premiere in New York City. The donut is a yeast-raised Bismark with a raspberry jam filling and coated in a vanilla glaze topped with a hand-airbrushed sugary rendition of John Pasche's famous Rolling Stones "Hot Lips" logo. The Exhibitionism- The Rolling Stones Donut will be available at all Stan's locations until April 30 for $4.39. As each donut is a handcrafted work of edible art, availability will be limited, so Stan's will limit sales to one donut per customer.
The Exhibitionism - The Rolling Stones team invited Stan's Donuts to create the pop art confection to spread its celebration of art, fashion and music beyond the walls of the exhibit at Navy Piers Festival Hall B and into the streets of Chicago.
"We are honored to be asked to partner with Exhibitionism- The Rolling Stones," says Chief Doughboy, Rich Labriola. "We are huge fans of The Rolling Stones and it was quite a challenge to design this donut. We are really happy with how it turned out."
Exhibitionism, delivered by DHL, allows you to experience the incredible journey of the most influential rock 'n' roll band in the world from their early days living together in a tiny flat to headlining the biggest stages in the world. Now open thru July 30, 2017 at Chicago's Navy Pier!
With the full participation of Mick, Keith, Charlie and Ronnie, this highly immersive and interactive exhibition is the largest of its kind at nearly 18,000 square feet. Including over 500 rare items from the band's private archive, Exhibitionism spans the band's influence on fashion, film, recording, and art and design. From their most cherished instruments, onstage and offstage clothes, valuable works of art and handwritten lyric books to personal diaries, recordings, unseen film and photos, a screening cinema and interactive recording studio, Exhibitionism culminates in an exciting and powerful backstage-to-onstage 3D concert experience.
For more information on Stan's Exhibitionism- The Rolling Stones Donut or to find the nearest Stan's location, visit http://stansdonutschicago.com/. For tickets to Exhibitionism- The Rolling Stones visit http://www.stonesexhibitionism.com.
###
About Stan's Donuts & Coffee
Stan's Donuts & Coffee offers more than 30 donut varieties daily, including Glazed, Old Fashioned Donuts, Fritters, Cake Donuts, Twists and Stan's signature Pockets in flavors such as Peanut Butter, Nutella and Biscoff Cookie Butter. Every donut is handcrafted using the finest and seasonal ingredients. The menu also serves La Colombe Coffee and house made soft serve gelato-a tried and true combination that has made Stan's a Chicago favorite. Stan's Donuts & Coffee can be found in Chicago's neighborhoods, and are served at Labriola Café in Oak Brook and Chicago.
Stan's Donuts & Coffee is open daily, hours varied by location. For more information, visit Stan's Donuts & Coffee online at http://www.stansdonutschicago.com, like them on Facebook or follow them on Twitter or Instagram.
Visit one of seven locations or find the Stan's food truck, Wicker Park: 1560 N. Damen Ave.; Streeterville: 259 E. Erie St.; East Lakeview: 2800 N. Clark St.; South Loop: 28 E. Roosevelt Rd.; Lakeview: 3300 N. Broadway St.; Magnificent Mile: 535 N. Michigan Ave.; and Oakbrook Center: 529 Oakbrook Center; or find Stan's Van on Twitter.