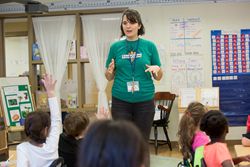 "The traditional method of serving school breakfast before school can be ineffective," says No Kid Hungry's Laura Hatch.
Washington, D.C. and Portland, OR (PRWEB) April 24, 2017
FoodCorps is excited to announce an exciting new partnership with Share Our Strength's No Kid Hungry campaign that awards over $40,000 to FoodCorps schools to implement projects to improve students' access to breakfast served at school. Research shows that when students aren't getting morning nutrition, it's harder for them to focus in class. Test scores drop, and students are more likely to miss class time because they're in the nurse's office with headaches or stomach aches. Discipline problems rise, while attendance levels fall. When children consistently eat school breakfast, however, they learn more, feel better, and grow up stronger.
FoodCorps is a national AmeriCorps service program whose corps members connect children to healthy food in school by leading hands-on lessons in growing, cooking and tasting healthy food; partnering with farmers and food service workers to create nutritious and delicious school meals; and collaborating with communities to build a schoolwide culture of health. With these grants and technical assistance from No Kid Hungry corps members will promote breakfast within their schools, implementing improved systems and purchasing the materials and equipment needed to serve high-quality breakfast options to their students in ways that maximize participation and uptake.
"The traditional method of serving school breakfast before school can be ineffective," says No Kid Hungry's Laura Hatch. "Something as simple as the time and location where breakfast is served can make all the difference to ensure all students start their day with the nourishment they need to learn."
No Kid Hungry is working to end childhood hunger by surrounding kids with nutritious meals where they live, learn and play. Fueled by the knowledge that federal nutrition programs such as the School Breakfast Program protect our kids from hunger and have long-lasting effects on academic achievement and health, No Kid Hungry seeks out partnerships that can help amplify the reach and positive impacts of programs like school breakfast. Through this collaboration, breakfast will be offered "after the bell" and in the classroom, making breakfast part of the school day and ensuring that all students have the opportunity to get the nourishment they need to thrive.
"This partnership is exciting because it leverages each of our organization's greatest assets," says Cecily Upton, FoodCorps co-founder and Vice President of Innovation and Strategic Partnerships. "No Kid Hungry's expertise in increasing school meal participation, ensuring that children have daily access to healthy food, and FoodCorps' service members who drive lasting shifts in school policies, practices and culture that promote healthy school food environments."