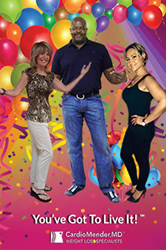 To lose weight and keep it off you've got to live it!!
PEMBROKE PINES, FLORIDA (PRWEB) April 23, 2017
Losing weight in 2017 is easier than it ever has been before. Weight loss experts are using new technology, new products and cutting edge new information. It seems like everyone is trying to become more conscious of nutrition and its impact on our health. Medical weight loss experts know what works from what doesn't, and why. CardioMender, MD's experts are hosting an Open House on April 29th, where they and the weight loss team will present what's new, along with real Quick Fix Weight Loss solutions. They'll show you how South Florida locals are losing weight quickly and maintaining their weight loss the healthy and safe way.
CardioMender, MD's weight loss experts, Dr. Barry Schiff, and Dr. D. Allen Young, treat weight loss patients with plans that combine their experience with the newest scientific and medical knowledge. They've got the plans and products to help patients lose weight eating food that can be purchased from the grocery store, learning how to appreciate what's healthy, and connect food choices with health benefits and reasonable costs. When meeting and consulting with each patient, the CardioMender weight loss team focuses on each patient's unique challenges and needs and provides them with specific instructions, educating each patient on what's been keeping them from losing weight. The CardioMender weight loss professionals provide patients individually tailored steps that lead most directly to sustained physician supervised weight loss success.
Today there are many new ways to make weight loss more effective, safer and feel like less of a challenge. Open House Events, like on April 29th, are an opportunity for CardioMender, MD's weight loss experts to share information about what's new. In addition to introducing new product lines, some weight loss products are being replaced. New flavors and varieties of have been added; weight loss products that are popular with patients, high in demand, have been expanded. Ultra-Premium Extra Virgin and Flavored Olive Oils and Flavored Balsamic Vinegars are new product lines that guests can sample at the Open House.
These and many other new weight loss foods have been added to the Pantry where they can be sampled, purchased and taken home to try in addition to the multitude of weight loss recipes that can be found on http://www.CardioMenderWeightLoss.com. These items are sold in this same website and shipped directly to anyone, not just patients of the medical practice. The CardioMender, MD team reveals these new products, new recipes, new tools and answers questions about how to get the best results using them.
This Open House Event provides everyone who visits free information and discussion on a one-on-one basis with our experienced team members. Guests learn the philosophy and approach used by CardioMender, MD. They're shown why this evidence-based program is so successful for rapid, safe, sustainable weight loss.
---------------------------------------------------------------------------------------------------------
CardioMender, MD's approach is distinctly different from what has become routine in medicine. Rather than focusing on alleviating symptoms with more and more medication, they focus on the root cause of the issue and how to eliminate it.
Dr. Schiff is a South Florida medical leader who has practiced both Cardiology and Internal Medicine in our community for almost 30 years. He's proudly served as both the Chief of Staff and the Chairman of the Department of Medicine for Memorial Hospital Pembroke in Pembroke Pines, FL. Dr. Schiff's success in helping patients with sustainable weight loss frequently leads him to take many of them off their medications. Dr. Schiff was a Co-Founder of the University Heart Institute Cardiovascular Group in Pembroke Pines, FL, where he maintained his clinical medical practice for almost 30 years. He was the Managing Partner but left the group to dedicate his focus and full time efforts to fighting obesity and the suffering caused by obesity's medical consequences.
Dr. D. Allen Young recently became certified as a Diplomate of the American Board of Obesity Medicine (ABOM), which signifies excellence in the practice of obesity medicine and distinguishes him as having achieved a high level of competency and understanding in obesity care. Dr. Young is also a board certified internist, and has made medically supervised weight loss and wellness his primary focus and passion.
The event is open to the public and runs from 1:30pm to 4:30pm on Saturday, April 29th, at the Pembroke Pines location. For the full address and to RSVP, please visit: https://www.cardiomenderweightloss.com/south-florida-weight-loss-quick-fix-solutions-open-house/