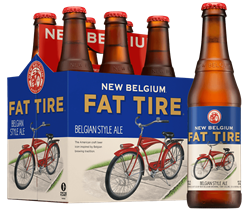 "Using Rival IQ is like having an extra marketer on staff who can take a deeper dive into data trends to determine if we're directly influencing social performance or if it's an external force moving the needle." - Kevin Darst, New Belgium Brewing
Seattle, Washington (PRWEB) April 25, 2017
Rival IQ, the leader in social marketing analytics and insights, today announced New Belgium Brewing will be leveraging Rival IQ to benchmark their social media marketing efforts, optimize digital marketing strategies, monitor competitive social activity, craft leading marketing content and learn from other leading global beverage brands. Ranked as a 'genius' U.S. beer brand the last two years by L2, New Belgium Brewing is dedicated to continuing to exemplify elite digital marketing practices in the craft beer industry.
"It's easy to get stuck comparing yourself to yourself," said Kevin Darst, digital and media manager, New Belgium Brewing. "If you're only analyzing your business' metrics, that data isn't informing you about your progress in the market or the industry. With benchmarks from Rival IQ, we can compare our performance against industry leaders, premium beverage brands, and other craft brewers. Benchmarks give social metrics power; a reference point."
"We're proud to help New Belgium Brewing see continued success in their digital marketing efforts," said John Gallagher, vice president of marketing, Rival IQ. "With Rival IQ, they are better able to inform their digital and social marketing strategies and see exactly how they're performing where it matters most."
"Using Rival IQ is like having an extra marketer on staff who can take a deeper dive into trends that we're seeing and determine if we're directly influencing social performance or if there's an external force moving the needle," said Darst. "What's great about Rival IQ is that you can spot trends in algorithm changes. For instance, if engagement suddenly drops, we can see if it only happened to us, or if everyone in our landscape experienced the same trend."
Companies and marketing agencies interested in learning more about gaining competitive insights, social benchmarking and simplifying reporting may visit http://www.rivaliq.com for a free trial of Rival IQ.
Contact: Danica Benson
Email: media(at)rivaliq(dot)com
About New Belgium Brewing
New Belgium Brewing, makers of Fat Tire Belgian Style Ale and a host of Belgian- inspired beers, is recognized as one of Outside Magazine's Best Places to Work and one of the Wall Street Journal's Best Small Businesses. The 100% employee-owned brewery is a Platinum-level Bicycle Friendly Business as designated by the League of American Bicyclists, and one of World Blu's most democratic U.S. businesses, and a Certified B Corp. In addition to Fat Tire, New Belgium brews fourteen year-round beers; Citradelic Tangerine IPA, Citradelic Lime Ale, Voodoo Ranger IPA, Voodoo Ranger Imperial IPA, Voodoo Ranger 8 Hop Pale Ale, Dayblazer Easygoing Ale, Tartastic Lemon Ginger Ale, Sunshine Wheat, 1554 Black Ale, Bohemian Pilsner, Abbey Belgian Ale, Trippel and a gluten-reduced line, Glutiny Pale Ale and Glutiny Golden Ale. Learn more at http://www.newbelgium.com.
About Rival IQ
Rival IQ's powerful software helps digital marketers boost performance, strengthen strategy, make more informed content decisions, and improve their social media engagement using Rival IQ's clear analytics and competitive insights. For more information, visit http://www.rivaliq.com, call +1.206.395.8572, or follow us on Twitter, LinkedIn, and Facebook.