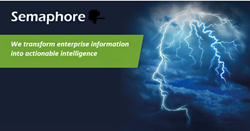 We are pleased to again acknowledge our continued partnership with MarkLogic by sponsoring MLW17
San Jose, CA (PRWEB) April 25, 2017
"We are pleased to once again acknowledge our continued partnership with MarkLogic by sponsoring MarkLogic World 2017," says Jeremy Bentley, CEO for Smartlogic. "The seamless integration between Smartlogic's Semaphore platform and the MarkLogic database allow organizations to leverage the power of each system across platforms for intelligent fact extraction, information asset harmonization, subject classification and enhanced metadata creation, to result in a unified enterprise information system that allows customers to achieve faster time-to-value and improve risk management."
"Our customers are leapfrogging competitors, as they understand that innovation no longer needs to be stymied by data silos; traditional technologies are not suited for today's modern data challenges. They are out-innovating their peers by using the MarkLogic database to integrate data from silos in order to create 360-degree views and real-time data flows that propel business objectives," said David Ponzini, senior vice president, Marketing & Corporate Development, MarkLogic. "We are happy to host our annual user conference to help MarkLogic database users and prospects learn how to rapidly and affordably exceed business goals through new generation technology."
MarkLogic World is a series of conferences around the globe designed to connect like-minded innovators who understand the importance of establishing a platform that can provide comprehensive, up-to-date information anytime, anywhere. Through hands-on workshops, technical breakouts, in-person training courses, and peer-to-peer sessions and networking, MarkLogic World attendees will learn how MarkLogic's operational and transactional Enterprise NoSQL database platform empowers enterprises and organizations in financial services, healthcare, media and entertainment, government, energy, manufacturing and many more build next generation applications on a unified, 360-degree view of their data.
About Smartlogic
Smartlogic's Semaphore is an enterprise-grade semantic platform that allows organizations to realize the business value of their information. By leveraging a common vocabulary and sophisticated semantic techniques Semaphore:

Enriches information assets with precise, complete and consistent metadata
Extracts facts, entities and relationships to drive analytics and workflows
Harmonizes all information sources to gain business insight
Semaphore brings structure to the unstructured, scales to manage organizational volumes, is built upon semantic standards and leverages Linked Open Vocabularies.
Semaphore's model-driven, rule-based semantic approach solves complex business problems that traditional technologies cannot. It integrates into and enhances the capabilities of existing technology to improve time to value for new opportunities.
Global organizations in the energy, healthcare, life sciences, financial services, government & intelligence, media and publishing and high tech manufacturing industries use Semaphore every day to enrich enterprise information with context and meaning. Semaphore extracts critical facts, entities and relationships to power case management, workflows and advanced analytics. It harmonizes different data types from disparate sources to create logical data warehouses with a true semantic layer.