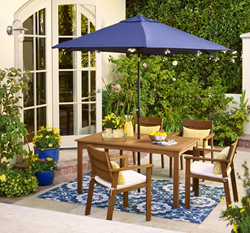 Los Angeles (PRWEB) April 24, 2017
With Mother's Day gift shopping in full swing, Lamps Plus has five tips for celebrating the holiday on May 14 in style. Advice to honor mothers and mother figures includes decorating and design tips to thoughtful gifts that capture the spirit of the day.
1. Celebrate at Home
According to Lamps Plus designer Michael Murphy, avoid the crowds at a restaurant and treat mom to an outdoor meal at home.
"Entertaining outdoors always adds a festive touch to the day," Murphy said. "A breakfast, brunch or barbecue is a great way to honor mom and spend more focused time with family."
He recommends using garden bench seating, outdoor pillows and water fountains to add ambiance and comfort when staging an outdoor event.
2. Flowers
Regardless of the food, Murphy suggests including flowers.
"Mothers seem to always appreciate flowers on their holiday and they add a little life and color to a setting. Flowers say 'I'm grateful for who you are and what you've done for me,'" Murphy said.
Real flower arrangements can be placed on side tables or used as a main centerpiece. Artificial arrangements hold their color year-round and act as a colorful reminder of the day's celebration.
3. Functional Gifts
Functional pieces that can be used for entertaining and dining on the day, but also serve as a gift are another opportunity to recognize a mother. These types of gifts are also ideal for families focused on sustainability.
"A cake or a dessert on a cake stand or platter presents both the food and the serving vessel as a gift. It makes for a nice surprise and lives on after the day is over," said Murphy. Cake and more specialized cupcake stands or multiple stands in different heights add visual interest to a food table, according to Murphy.
4. Personalize
A functional gift with a personal touch offers another way of remembering and honoring mothers. Table lamps and other lighting from the Lamps Plus Color Plus™ lighting collection can be personalized with a designer color that's a favorite for each mother or has special meaning to her. Home accessories such as glass vases, desk clocks or wall mirrors are other ideas.
"Choose something that has personal meaning for your mother and the family that represents something more than just a gift. That way, the story of the day will live on in the gift," Murphy said.
5. Light Properly
As the party winds its way into the evening, Murphy advises to not forget lighting.
"Proper illumination can make even a great gathering that much more memorable, social and enjoyable," he said. "You're going to be entertaining and you may primarily consider indoor and outdoor furniture and décor. But lighting for accent and tasks is crucial."
Outdoor table lamps and chandeliers are specifically made for use outside the home. They won't break when tipped over, and there are solar powered models that don't need to be plugged in, so they can be used in garden settings where an electrical outlet might not be available.
About Lamps Plus
Established in 1976 and headquartered in Los Angeles, Lamps Plus has become the nation's largest specialty lighting retailer, operating a successful e-commerce business, mobile site and over three dozen retail stores in the western United States. As the leader in the lighting industry for over four decades, Lamps Plus designs and manufactures a wide assortment of exclusive and patented lighting styles including the Color Plus™ collection and lamps with customizable art shades that are artisan handmade to order. To assist consumers, a staff of American Lighting Association trained experts is available in the company call center and in all stores. The Lamps Plus family includes Lamps Plus Professionals, Lamps Plus Hospitality and LampsPlusOpenBox.com. The entire product catalog of functional and decorative lighting, furniture and home décor can be found at http://www.LampsPlus.com.