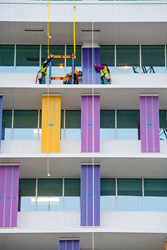 The close collaboration between Overland and Bendheim in the development of the colored glass panel system was key to overcoming the technical challenges
NEW YORK (PRWEB) April 24, 2017
Bendheim announced today that its Unitized Channel Glass Façade System is the winner of the prestigious GOOD DESIGN™ award for innovation and design from the Chicago Athenaeum Museum of Architecture and Design.
Founded in 1950, GOOD DESIGN™ is the oldest and most respected program for design excellence worldwide. Awarded corporations represent some of the world's most visionary FORTUNE 500 companies, including 3M Co., Apple, Inc., and Porsche.
Bendheim's award-winning Unitized Channel Glass Façade System can be seen at The Children's Hospital of San Antonio, designed by Overland Partners. Here, it addresses several major design challenges, including:

A project of this complexity required a partner with integrated design knowledge, manufacturing capabilities, and installation experience. Bendheim's technical design team collaborated with the architects and installers to develop the innovative customized system, ensuring the colorful façade units could be easily hoisted, aligned, and secured into position. This resulted in an exceptionally fast installation with visually striking results, and contributed to winning the Award.
"The close collaboration between Overland and Bendheim in the development of the colored glass panel system was key to overcoming the technical challenges," said Kris Feldmann of Overland Partners. "The inclusion of color in the façade of the transformed hospital further solidifies it as an important institution to the cultural fabric of downtown San Antonio."
"Design has a tremendous impact on the human experience," added Robert Jayson, President of Bendheim. "Our channel glass brings color and light together to positively impact the patients' experience. This is the power of design innovation."
For 90 years, Bendheim has built its company on successful collaborations with building professionals, providing unprecedented knowledge and expertise. The company specializes in transforming design challenges into opportunities for creating unique solutions. For more information, please visit http://www.bendheim.com.