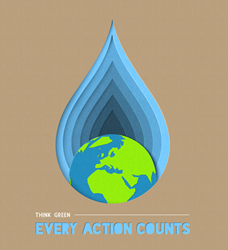 Ridgecrest herbals has been awarded a Blue Sky Energy Award for Corporate Sustainability Efforts.
Salt Lake City, UT (PRWEB) April 24, 2017
Ridgecrest Herbals makes it a point to lead the Utah supplement industry in their efforts to encourage sustainability, innovate new strategies to reduce waste, and support renewable energy. They believe this is a crucial part of their mission as an all-natural herbal remedy provider. They look to nature to find solutions for health issues, and maintain that destroying the environment in the pursuit of profit is unsustainable and at odds with the role humans must take as stewards of nature. they make every effort to improve their processes to reduce their environmental footprint.
Their Salt Lake City warehouse facilities and headquarters are powered using 100% sustainable energy. They support renewable energy and are Visionary-Level Business Partners with Blue Sky, the Rocky Mountain Power initiative to use sustainable energy. On April 18th, they received an award from Blue Sky for their business efforts to promote sustainable, renewable energy. Some of the measures they have taken include:
Replacing all lighting in their warehouse and offices with LED lights to cut energy waste.
Using washable towels in their bathrooms, and having bamboo forks and spoons available for staff use in their kitchens, cutting down on paper and plastic waste.
Utilizing recycling bins in the office for all staff waste.
Making a point to include sustainability ideas for new stores, with tips and ideas to reuse the boxes their products come in. They only use high-quality corrugated cardboard boxes to encourage reuse.
Using cardboard boxes made with at least 47% post-consumer waste. Corrugated cardboard is the most successfully recycled material in America, with an average recycle rate of 92.9%.
Finally, their annual publication for their retailers, the Ridgecrest Herbals Almanac, is full of tips, tricks, recipes, and ideas to encourage those down their supply chain to practice sustainability in their own lives. Some examples include how to ferment your own food, vermicomposting, gardening tips, and more.
They are constantly striving to do more, working with their employees to come up with new, innovative ways to increase their sustainability measures. By encouraging participation from their team, they are continuously pushing their mission of sustainability and stewardship to the next level.