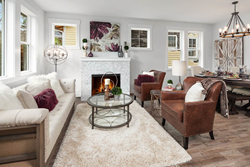 Our Grand Opening Sales Debut at The Juanita Farmhouse Cottages provides an unparalleled opportunity for homeownership in one of Puget Sound's most sought-after neighborhoods.
Kirkland, WA (PRWEB) April 21, 2017
Valerie Burmester, a top-producing real estate broker for Realogics Sotheby's International Realty (RSIR), announced today the official grand opening of The Juanita Farmhouse Cottages―a collection of eight individual, fee-simple homes ranging in size from 1,490 to 1,632 sq. ft. located at 9427 NE 128th St in Kirkland, WA. The homes are offered from $879,000 with special financing requiring just 10% down payment and rates starting at just 2.50% (2.625% APR) on approved credit. See broker for details, terms subject to conditions.
"Our Grand Opening Sales Debut at The Juanita Farmhouse Cottages provides an unparalleled opportunity for homeownership in one of Puget Sound's most sought-after neighborhoods," said Burmester, the lead broker for Team Burmester of RSIR. "For those that desire a brand new, single-family home with attainable financing options and the latest in high-tech features, we've got your address."
Burmester reports that four of the eight homes have been sold and all homes are released for sale, either as a presale for those plans not yet built or for immediate occupancy. The special financing offer will extend for all new home sales provided the offer to purchase occurs in the month of April 2017. The model home and sales center for The Juanita Farmhouse Cottages will be opening Saturday and Sunday, April 22 and 23 from, 11 a.m. to 4 p.m. or by appointment.
The cottage zoning is unique the City of Kirkland and in other neighborhoods on Bainbridge Island. Under the plan, larger lots are permitted to be short platted into smaller lots; and single family homes of around 1,500 sq. ft. are permitted (about half the size of a typical new construction home), providing an alternative to a condominium.
"The cottage zoning offers the best of both worlds," adds Burmester. "We provide the independence and pride of ownership of a single family home on a lot you own but also the lock and leave lifestyle that are so popular with condominiums, but without the high HOA dues or homogeneous floor plan limitations."
Unlike the commodity of a condominium, Burmester notes that each of the nine cottages were named after trees found on the one acre property and in fact, numerous elements of the former, century old farmhouse were incorporated into the final homes. While paying homage to a historic past, The Juanita Farmhouse Cottages are futureproof, including the latest in high-tech amenities such as standard electric vehicle charging stations in the garages. A centralized common area includes a guesthouse for nightly rentals and a great room for social gatherings, while a neighborhood pea patch and outdoor amenities foster a sense of community. The new development is within walking distance of the Juanita Village, home to a regional shopping center for residential services and lifestyle retail and restaurants, while the nearby Juanita Beach provides access to Lake Washington.
The City of Kirkland is one of the fastest-growing areas in the Puget Sound and home to substantial employers including a large Google campus―as well as a new facility for Tableau, which is under construction at. Kirkland Urban; a new development in the heart of Kirkland which will feature 390,000-square feet of Class-A office space, 140,000-square feet of retail, 185 apartments, and 1,700 parking spaces. An abundance of jobs and an enviable, more village-like lifestyle has made the City of Kirkland and its many lakeside neighborhoods among the most popular and a preferred alternative to the high-rise living and greater density in the City of Bellevue. Kirkland was recognized as a Top Neighborhood to Live by Fundreds and Niche in 2017 and has experienced median home price increases of for the first quarter of 2017, year-over-year, according to the Northwest Multiple Listing Service. With new construction properties boasting a median asking price of about $977,000, market experts believe The Juanita Farmhouse Cottages provides attainable price points and a lower threshold to own when compared with the surrounding area.
"This opportunity arrives at a time when median home prices are rising quickly and renters and recently relocated executives are eager to find alternatives to the region's steep rents while benefiting from income tax deductions on the heels of Tax Day," said Dean Jones, President and CEO of RSIR
Jones believes that the area where The Juanita Farmhouse Cottages is located (comprising zip code 98034), as in much of Seattle and the Eastside, has seen many would-be homebuyers incubating in apartment communities and renting single family homes. He acknowledges that inbound residents not planning to stay for more than two or three years would be more likely to rent. Indeed, 42.7 percent of residents here are renting; and the population boom has witnessed more than 3,000 households move to this part of Kirkland, according to recent census data. Like the rest of the metropolitan region, that new growth in this area has been served almost exclusively by rental housing as developers reap the rewards of high rents and low cap rates. In a report published by RSIR for Tax Day, analysts confirmed that tenants of approximately 13,000 newly occupied apartment units in downtown Seattle built since 2010 missed an estimated $60 million in likely income tax deductions and perhaps as much as $600 million worth of capital appreciation during the most current tax year alone. See broker for details.
"We are simply not building enough housing for purchase in the region and median home prices will continue to rise," adds Jones. "We are going to feel this compounding effect on housing, especially in desirable neighborhoods that are closest to job centers. Until we benefit from the full expansion of Sound Transit 3, which is measured in decades of work and billions in costs, I view the development of infill condominiums and cottage-type housing as not just much needed diversity but vital to the prospect of attainable homeownership."
Prospective buyers are encouraged to register online for priority sales information at http://www.JuanitaFarmhouseCottages.com.
About Realogics Sotheby's International Realty (http://www.RSIR.com) - Artfully uniting extraordinary homes with extraordinary lives, Realogics Sotheby's International Realty is a leading global sales and marketing brokerage firm in the Pacific Northwest. Recognized by the Puget Sound Business Journal amongst the fastest-growing private companies in Washington State for 2012, 2013, 2014, 2015 and 2016 the boutique real estate firm of 190+ brokers consistently rank among the top producing firms within the markets that it serves with branches in downtown Seattle, Bainbridge Island, Kirkland, Issaquah and now Madison Park.