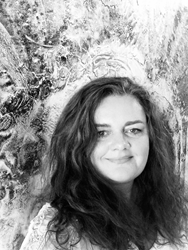 Event Horizon is a place where the laws of our physical universe begin to change. So is the process rendered in my Art and Music.
New York, New York (PRWEB) April 23, 2017
"An event Horizon is a place where the laws of our physical universe begin to change. So is the process rendered in my Art and Music. These are created as Metaphysical Transformations where music, which is the origin of my art materials, nature, light, and silence the boundary of mystery culminate to the ultimate singularity."
-- Karen Salicath Jamali
Karen will also preview her upcoming album of Meditative piano compositions, "Crown Leaf". Her seventh album features the compositions that inspired much of the artwork in "Event Horizon"
"Composing and playing piano has become a daily, meditative ritual for me, that influences my painting and sculpting," says Karen Salicath Jamali.
Torben Weirup, the distinguished Danish art critic contributing essays for a two hundred page monograph on Karen's artwork, will also be attending the opening. About her sculpture, Mr. Weirup has written, "Humanity is the crux of the matter in the works of Karen Salicath Jamali. And its destiny, the basic sense of being. What is immediately striking is that she's not afraid of being out of fashion, of letting her works carry a sense of pathos. In them are a certain mood and an idiom not unlike that conveyed by memorial monuments. Anonymous in a way well-suited for universal messages."
"In my sculpture I seek to evoke the universality of the human condition, in a language accessible to all regardless of races and culture," says Karen.
About Karen Salicath Jamali: Born and raised in Denmark, Karen achieved a master degree from the Royal Danish Academy of Fine Art, School of Design in Copenhagen in 1991. She has been working as a painter, sculptor and photographer for 30 years, and is now also a composer and pianist. Karen has participated in over 100 solo and group exhibitions throughout the world, including the Louvre Museum in Paris, Museum of Modern and Contemporary Art in Monreale, Italy, and solo on the Kume Museum in Tokyo. Her built works include several permanent public sculptures, and she is represented in more than 700 private collections.
In recognition of her outstanding artworks Ms. Jamali has received many international awards, including the "Raffaello Sanzio" award, the "Beato Angelico" the "Nelson Mandela Prize", "The International Human Rights Award 2016" from the Accademia Italia In Arte Nel Mondo Associatioen Culturale.." Other honors include the "Golden Palm Award 2016", "Academy Awards Oscar Award 2016" from Constanza Foundation World Directory of Artist in Italy, the "Shakespeare Award", the "Botticelli Prize", the "Leonardo da Vinci Price 2016", and the "Michelangelo International Prize", among many other.
Jamali Gallery in New York City. Located at 413 West Broadway
between Spring and Prince streets, it is open daily from 10 AM to 7 PM.
To learn more please visit kjamali.com or JamaliNYCGallery.com.
Contact Information Jamali Gallery (212)966-3335 ore (407)619 4077