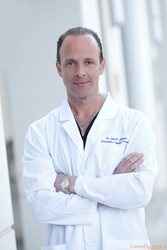 Miami, FL (PRWEB) April 24, 2017
Miami Periodontist and Dental Implant Specialist John Paul Gallardo, DDS, PA will be attending the 2017 Oral Reconstruction Foundation's 2017 Symposium on Tissue Regeneration and Implant Dentistry held in Miami Beach May 4-6, 2017.
The Oral Reconstruction Foundation will present its annual Global Symposium at the Fontainebleau Hotel located in Miami Beach, FL. This annual symposium brings together thousands of doctors from all around the world. The symposium features the latest trends and technologies in dentistry by offering lectures from 29 doctors, panels, and hands-on workshops led by experts in the field.
"It's important to note that Miami has become a destination for a continuing education event of this magnitude," said Dr. Gallardo. "While the panel of speakers will be second to none, a big part of the education takes place in the hallways between attending colleagues."
The Symposium provides a total of 18 hours of CE credits for the 3 days of instructional and hands-on sessions.
Recognized for a myriad of advancement roles in the areas of periodontics and implant dentistry, Dr. Gallardo has presented and attended symposiums on both a national and international level. He has performed dental implant and tissue regeneration surgeries on patients from more than 38 states and 10 countries since 1994.
"Having been a dentist for 25 years now, I come to appreciate more and more the critical importance of being a perpetual student and not only keeping up with technology and new techniques, but contributing to their development," said Dr. Gallardo.
A nationally recognized doctor, educator, and lecturer, Dr. Gallardo has lectured nationally and internationally to dentists and hygienists and has been sponsored by companies such as Procter and Gamble to speak on clinical topics related to gum disease and dental implants. He has been interviewed by the Miami Herald as an expert contributor to oral health-related news updates. Dr. Gallardo provides services at University of Florida to guide dental students in treatments and procedures and also hosts an Elite Doctor Study Club four times a year to bring the latest advancements in dentistry to other dentists in the area. The study club distributes knowledge and information regarding implant dentistry, its latest technology, treatments/procedures as well as discussion in clinical questions.
For more information on Dr. Gallardo, please visit http://www.miamiperio.com.