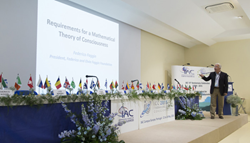 If the future of consciousness science goes in the way I've seen here at the IAC, I am happy with it. Brenda Dunne, M.S
Miami, Florida (PRWEB) April 23, 2017
Almost 15 years ago, Dr. Jim Tucker - then the medical director of the UVA Child and Family Psychiatry Clinic - started collecting claims made by children who said they remembered having a past life. More than imagination, some of these children were able to provide enough detail to help researchers trace their stories back to actual people who had died years before. As a result of Tucker's work, the subject of reincarnation is much better understood and patterns of the phenomenon have already emerged.
Tucker will be presenting his research at the 2nd International Congress on Consciousness (ICC), which will be hosted by the the International Academy of Consciousness (IAC). This event is open to the public and will take place at the James L. Knight Center, located at 400 S.E. 2nd Avenue, Miami, Florida. An online broadcast will also be available for remote attendees. In addition to Dr. Tucker and his work, the congress will feature other prominent researchers who will present on a variety of subjects, including: detection of subtle energy, psychic abilities in children, near death experiences, and the fundamental nature of reality. Participants of the congress will have more information to better understand and engage the debate about whether "consciousness" exists independent of the physical body or if it is merely a phenomenon produced by the brain.
The mission of the International Academy of Consciousness (IAC), who will be hosting the event, is to conduct research and education concerning the multidimensional nature of consciousness and implications associated with this reality. Special emphasis is placed on the out-of-body experience and bioenergy, as these are considered key research tools for exploring and examining the non-physical aspects of reality. Demystifying these phenomena and clarifying their common misconceptions empowers individuals to understand and develop their innate parapsychic faculties and obtain greater awareness and control in their lives.
The IAC strives to be ethical and universal in how it communicates concepts to its audience, giving knowledge and tools that individuals can use to increase self-knowledge of their own multidimensional nature. Central to the work is the principle, "Be lucid. Question everything and everyone. Experiment. Ponder," encouraging interested individuals to come to their own conclusions through rational thought and first-hand experience with these subjects.
Consciousness exploration is widely considered one of the greatest and most persistent mysteries of science. It provokes questions such as: Why are we aware? Are people merely biological beings, or something more than this? Does the consciousness survive after the body dies? The mainstream worldview on the nature of consciousness takes a reductionist view, where the mind, body, and life are reduced to purely physical categories. However, when these questions are approached from a more encompassing paradigm, there is some evidence that consciousness could be more fundamental than the physical body, and perhaps more fundamental than the physical universe itself.
The 2nd ICC is dedicated to addressing research that illuminates the multi-faceted aspects of the nature of consciousness. This Congress will bring together both scholars and lay people with a shared interest in continuously refining a more advanced scientific approach that acknowledges the existence of non-physical realities and that appropriately facilitates the exploration – in subjective, inter-subjective and objective modalities – of the multidimensional aspects of consciousness. Speakers, researchers, and participants with a multidisciplinary background will attend from numerous countries, each enriching the proceedings and debates during the event. The lectures will present a myriad of views on diverse topics ranging from bioenergy detection to quantum physics to transcendent human experiences.
Confirmed Keynote Speakers and Presentations: The 2nd ICC, will feature 22 presentations, including keynote speakers, Wagner Alegretti - Bioenergy Detection, Jim Tucker – Children's Reports of Past-Life Memories, Jeffery Martin – Non-symbolic Consciousness, Pim Van Lommel – Near-Death Experience and Non-local Consciousness, Nanci Trivellato – Psi Experiences and Perception in Children, Stuart Kauffman – Theoretical Biology and Complex Systems, Beverly Rubik and Harry Jabs – Biofield, Health and Healing, Massimiliano Sassoli De Bianchi – Multiple Realism, Federico Faggin – The Fundamental Nature of Reality, and Katherine Peil – Emotional Sentience: The Nature of Consciousness.
The event is open to the public and will have participants from around the world. Simultaneous translation will be available in English and Spanish during all research presentations, and in Portuguese during many research presentations, to further facilitate communication among our attendees. Participants who prefer not to travel to Miami can attend the 2nd ICC online (broadcast live).
REGISTRATION is now open and additional information is available through the ICC website consciousnesscongress.org or by emailing conference.support(at)iacworld(dot)org or by phone at 305-668- 4668 in the USA. Student, group, and senior discounts available. For information about IAC and its research and educational activities, please visit http://www.iacworld.org.
PROMOTIONAL TICKETS are available for $379 for a limited time from April 25 through May 5th using special promotional link consciousnesscongress.org/promo. To interview researchers or to find out more about the congress, please contact Silvana Meira at 305-668- 4668 or by email at conference.support(at)iacworld(dot)org