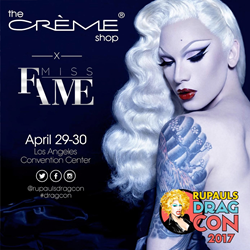 Los Angeles, CA (PRWEB) April 25, 2017
At RuPaul's DragCon
Los Angeles Convention Center
29 & 30 April 2017
MISS FAME MEET & GREET
The Crème Shop will be attending the third Annual RuPaul's DragCon 2017 at the LA Convention Center with fab guest stars Miss Fame and Kalista Stage.
JOIN US
Booth # 906
Friday April 28, 4:00pm to 8:00pm
Saturday April 29, 9:30am to 6:00pm
Sunday April 30, 9:30am to 4:00pm.
MEET & GREET DEETS
Swing by our booth to meet two queens – Kalista Stage @kalistastage and Miss Fame @missfamenyc. Miss Fame will be holding an exclusive Meet & Greet session at The Crème Shop booth Booth # 906 from 1-3PM. Snag an autograph and an iconic selfie.
Eligible for Meet & Greet with purchase of $30 or more. Please speak to a Crème Shop representative (booth #906) for more details!
ABOUT THE CRÈME SHOP
Our job isn't to make you beautiful; we simply enhance the beauty that you already possess.
Since 1988, The Crème Shop has been crafting eclectic beauty products with an emphasis on quirky details. We're based in Downtown, Los Angeles, California, but have factories all around the world. We take special pride in our handmade, 100% human hair eyelashes and our leading Korean skincare. Each and every one of our products are 100% cruelty-free so you can look good while doing good!