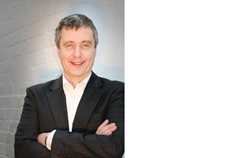 "This is an exciting time for Lithe IT in it's growth and I believe our innovative approach is breaking new ground in this industry".
(PRWEB UK) 24 April 2017
Padraig is regarded by the sector as a visionary in the Business Process Management (BPM) market and brings a wealth of experience to Lithe IT at a time of exciting growth for the provider of Smart Process Applications based in Glasgow.
Anthony Murphy, CEO of Lithe IT comments: "We are thrilled to have Padraig join Lithe IT. His pioneering experience and knowledge of the industry in which we operate, as well as his drive and passion means he is the ideal person for the role of Chairperson."
Padraig who started Singularity, the Derry based BPM platform company, in 1994 and sold it for $48.1m to Kofax in December 2011 is excited with the challenge: "BPM technology has the capacity to deliver both great qualitative and quantitative improvements to companies that implement it astutely and to deliver tangible benefit to their customers. In Lithe IT, I see a company uniquely capable of such implementations and who bring a hunger and a drive in being the best in class. This, and their innovation in delivering value quickly and continually is hugely impressive and I am looking forward to working closely with the team to build on the success they have enjoyed to date."
Lithe IT have a sizeable team based in Glasgow, Derry, London and New York with plans underway to further expand its operations in all locations and most especially in its core North American market. Lithe IT's OneVolve range of Smart Process Applications which complements the industry leading Kofax TotalAgility™ platform are targeted at improving businesses' effectiveness and efficiency saving both time and money. Lithe IT work primarily in the Business Process Outsourcing, Financial Services and Insurance industries with a global customer base.
Padraig adds: "This is an exciting time for Lithe IT in its growth and I believe our innovative approach to delivering Smart Process Applications through OneVolve, particularly in extending these transactions directly to the end user means we are breaking new ground in this industry."