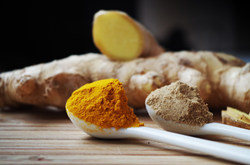 The treatment of tumor-bearing rats with 1.5 mg/kg curcumin...dramatically reduced the mean total tumor mass.
Raleigh, NC (PRWEB) April 23, 2017
A new study conducted in Nantes, France on the plant polyphenol curcumin is the latest in a growing group of studies showing that the compound is damaging to malignant mesothelioma cells. Surviving Mesothelioma has the full story. Click here to read it now.
Researchers at the University of Nantes and several other French institutions administered curcumin to rat mesothelioma cells in the lab and then to live rats with the rare sarcomatoid subtype of malignant mesothelioma.
"The treatment of tumor-bearing rats with 1.5 mg/kg curcumin on days 7, 9, 11 and 14 after tumor challenge dramatically reduced the mean total tumor mass at day 16," writes researcher Daniel L. Pouliquen in the journal Oncotarget.
The curcumin, which was administered directly into the peritoneal cavity where peritoneal mesothelioma grows, also activated cancer-fighting T lymphocytes which helped to destroy residual mesothelioma tumors.
"The news about curcumin just keeps getting better and we are excited to make our readers aware of this new development," says Alex Strauss, Managing Editor of Surviving Mesothelioma. "Coupled with other recent studies, it suggests that curcumin may have a role to play in future mesothelioma treatment."
To read the details of the new French study of curcumin as well as other recent studies on the compound, see New Prospects for Treating Malignant Mesothelioma with Curcumin, now available on the Surviving Mesothelioma website.
Source: Pouliquen, DL, et al, "Evaluation of intracavitary administration of curcumin for the treatment of sarcomatoid mesothelioma", February 25, 2017, Oncotarget, Epub ahead of print, http://www.impactjournals.com/oncotarget/index.php?journal=oncotarget&page=article&op=view&path%5B%5D=15744
For more than a decade, Surviving Mesothelioma has brought readers the most important and ground-breaking news on the causes, diagnosis and treatment of mesothelioma. All Surviving Mesothelioma news is gathered and reported directly from the peer-reviewed medical literature. Written for patients and their loved ones, Surviving Mesothelioma news helps families make more informed decisions.