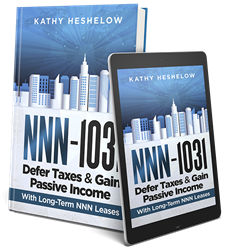 Pick up the new book about passive income real estate, NNN-1031, by Kathy Heshelow. Learn all about this popular yet little-known commercial investment.
St. Petersburg, FL (PRWEB) April 26, 2017
Passive income real estate is a goal of many today, whether for retirement or to have income from various sources.
The new book, NNN-1031: Defer Taxes & Gain Passive Income with Long-Term NNN Leases, can be enlightening and helpful for those seeking out investments. The Kindle book is free today only as part of the introduction to market.
Heshelow has more than 17 years of experience in this specialized niche, always acting as buyer's broker to help guide the process and represent the buyer.
"These are 'hands-off' types of investments, and typically with large and recognized tenants that have financial ability to meet their obligations, like Walgreens, McDonald's or Advanced Auto," says Heshelow. "Discover all of the reasons why investors like NNN - but also the downsides."
"My books tend to be focused and to the point, since most people are incredibly busy these days," says Heshelow, founder and broker of Legacy NNN Real Estate & Investments, and ecommerce entrepreneur. "This book explains what you need to know to evaluate if it is the right kind of potential investment for you and your family."
The new book is available in Kindle eBook format as well as in paperback.