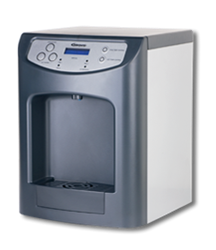 (PRWEB) April 24, 2017
A 2-in-1 bottleless water appliance provides both purified drinking water and laboratory-grade deionized water from the same place. From 101 Water Texas, here are the ways in which this technology can benefit dental offices:
Customer Satisfaction: Patients and staff can enjoy a continuous supply of pure, fresh, oxygenated water, with both cold and hot options.
Convenience for Dentists and Hygienists: With a deionization filter connected at the filling station, the bottleless water appliance dispenses safe, deionized hot and cold water for use in rinsing stations and autoclaves alike.
Health and Safety: The touchpad and surrounding surfaces contain an organic antimicrobial solution that kills more than 98% of bacteria, inhibiting the spread of germs. It is highly resistant to UV light, repeated washing, abrasion, and a wide variety of common chemicals.
Savings in Time, Space, and Costs: The quick and easy filling station improves staff productivity, while the 2-in-1 nature of the appliance reduces both overhead and physical space requirements. In addition, there is no need to store or lift heavy water bottles.
About 101 Water Texas
101 Water Texas has been locally owned and operated since 1994. For business inquiries and more information about the company's services, call (210) 510-4105 or visit http://www.101watertexas.com/. The company's address is 401 E. Sunterra Blvd, Suite 375, San Antonio, TX 78258.