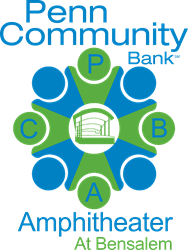 BENSALEM, Pa. (PRWEB) April 24, 2017
Penn Community Bank is proud to be the 2017 naming rights partner for the Bensalem Township amphitheater, which now is called the Penn Community Bank Amphitheater.
"We are excited to sponsor the Penn Community Bank Amphitheater for the 2017 season," said bank President and CEO Jeane M. Coyle, "As the cornerstone of Bensalem's summer programming, the amphitheater offers fun, affordable entertainment all summer long to township residents and visitors, and is definitely an attraction that makes Bensalem special."
Located at 2400 Byberry Road in Bensalem's Central Park, the amphitheater opened in 2002 and accommodates 3,000 people. From June to August, it hosts a summer concert series on Wednesday nights, featuring tribute bands playing hits from The Beatles and Journey to Billy Joel, Elvis, Prince, and more. It also is home to the township's popular Fall Festival.
"We are thrilled to partner with Penn Community Bank and are thankful for the support they are demonstrating for Bensalem Township," said Amanda M. McDonald, the township's Marketing Manager. "Bensalem is proud to offer another summer of exciting live entertainment at the award-winning venue."
Tickets are sold at the amphitheater on the evening of each performance. The cost is $5 for Bensalem residents and $10 for non-residents. For senior citizens, resident tickets cost $3 and non-resident tickets cost $7. Children 12 and under may attend for free. Season passes are available for $45 while supplies last. Parking is free, and the venue is handicapped accessible.
To learn more, visit the Penn Community Bank Amphitheater website.
About Penn Community Bank: Penn Community Bank holds more than $1.9 billion in assets, employs more than 300 people, and offers banking, lending, insurance and investments at 23 bank branches and two administrative centers throughout Bucks County, Pennsylvania. As an independent, mutual financial institution, Penn Community Bank is not publicly traded and operates with its long-term mission in mind: to help businesses grow and prosper, to provide financial resources to individuals and families throughout their lifetimes, to strengthen the local economy, and to partner with local organizations to act as a catalyst for positive growth in every market it serves.
# # #