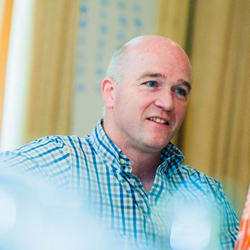 I'm delighted with the acquisition of AOM Australia which enables ActiveOps to build on our existing success in the Asia Pacific region and create a truly global offering to better meet the customer needs
Reading, United Kingdom (PRWEB UK) 26 April 2017
ActiveOps, leader in cloud-based back office workforce optimization solutions, announce the acquisition of Active Operations Management Australia Pty Ltd (AOM Australia) based in Australia and expansion of operations in North America
Reflecting global growth of over 40% this year, ActiveOps are now the leading pure play back office workforce optimization software and services provider with revenues for 2016/17 (pre acquisition of AOM Australia) of £12m.
ActiveOps, a privately held company, completed the acquisition of AOM Australia for an undisclosed sum. AOM Australia has operated as ActiveOps sole agents since 2004 employing 25 with a regional head office in Adelaide and staff based in Melbourne, Sydney, Brisbane, Hong Kong, Vietnam, Kuala Lumpur plus an exclusive agreement with ActiveOps New Zealand. AOM Australia serves many leading financial services, BPOs and government customers in the Asia Pacifc Region. All existing sales, implementation and support staff become ActiveOps employees led by Darren Hauschild appointed as Managing Director for ActiveOps in Asia Pacific.
Paul Moroney, previously Managing Director of AOM Asia Pacific, has been appointed Chief Product Officer for ActiveOps. Key development, infrastructure and service desk staff will join Paul as part of the ActiveOps Global Product Development and IT teams.
In addition ActiveOps is expanding operations in North America creating new positions in account management, partner support, implementation and delivery roles including the relocation of Co-founder and Group CEO Richard Jeffery to a new New York office.
"Having the track record of results ActiveOps has delivered for global organizations, means we are experiencing fantastic growth in demand for our solutions to the complexities of optimizing work and capacity in complex back office and shared service centers. Robotic automation, ever rising customer expectations and relentless pressure on costs have buoyed the market for back office workforce optimization now seen as a critical solution to maximizing operational efficiency, economies and realizing the full potential of staff.
I'm delighted with the acquisition of AOM Australia which enables ActiveOps to build on our existing success in the Asia Pacific region and create a truly global offering to better meet the customer needs. This coincides with our expansion in North America, where we will continue to invest, and I am making the US my personal focus to help foster growth in such an exciting market". Richard Jeffery Group CEO ActiveOps.
Customer reaction to the ActiveOps expansion announcements has been very positive including from Ken Haderer – Chief Operating Officer, Mercer.
"ActiveOps Workware software and management approach is now a foundation of our global operations, bringing a common language and a clear methodology across our global centers. Our teams are more engaged and empowered and are gaining valuable insights that help us to deliver better
customer experiences. ActiveOps' expansion in North America and Asia Pacific will enable us to further strengthen our global community of operations professionals."
ActiveOps - Manage Differently
At ActiveOps we believe operations should deliver strategic advantage to the enterprise enabled by individuals realising the full potential of their talents and resources.
ActiveOps provide innovative cloud based software and services which enable our customers to establish and sustain world class capability in back office workforce optimisation
Workware™, our cloud based SaaS software, is purpose built for the back-office to quantify work and time, measure productivity by efficiently measuring both human and digital robotic resources in real-time. It enables capacity to be optimised, reducing costs and improving service delivery across diverse and complex back office operations.
The Active Operations Management (AOM™) method enables teams to collaborate and sustain higher productivity through a consistent management framework. Better communication and improved control results in higher staff engagement and reduced stress.
ActiveOps operates across the globe from offices in the UK, Australia, India, South Africa and North America supporting back office and shared service operations in financial services, shared service centres, government organisations and Business Process Outsourcers (BPOs).