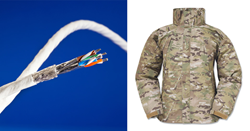 Elkton, MD (PRWEB) April 24, 2017
W. L. Gore & Associates, Inc. (Gore) will be featuring products from GORE® Military Fabrics, GORE™ SKYFLEX™ Aerospace Materials and GORE® Cables and Materials at the 2017 Army Aviation Mission Solutions Summit in Nashville, TN, April, 26-28, Booth 1045.
Gore offers an extensive collection of high-performance technical solutions that incorporate the latest materials science — ePTFE (expanded polytetrafluoroethylene) — to meet the military's complex functional needs and rigorous industry requirements. Gore products have proven themselves in the toughest military conditions, dramatically reducing program risk and ensuring the success of any mission.
Gore will be exhibiting military apparel featuring fire-resistant (FR) innovations, including GORE® PYRAD® Fabric Technology – an advanced laminate that offers an optimal combination of thermal / flashover burn protection, environmental protection, and comfort. This unique technology self-extinguishes flames so that the fabric does not continue to burn. Also on display will be Gore's Fire-Resistant Environmental Ensemble (FREE) line designed with a Nomex® outer layer, a durably waterproof, windproof, and breathable GORE-TEX® membrane, and a Nomex® liner. In addition, Gore will show its Intermediate Weather Outer Layer (IWOL) jacket, constructed from a MASSIF® fabric featuring GORE® FR Stretch technology in a revolutionary nylon-faced, flame resistant, water resistant laminate.
Gore will also exhibit its portfolio of durable GORE® Cables and Materials engineered to perform reliably now and over time. Products that will be highlighted include small, lightweight high data rate cables; no-cure, sealing and surface protection GORE™ SKYFLEX™ Aerospace Materials; and excellent shielding materials.
Throughout the summit, Gore will conduct live demonstrations using the Cable Installation Simulator they developed to replicate the conditions an assembly experiences while being routed during installation in an aircraft. Gore specialists will route GORE-FLIGHT™ Microwave Assemblies through the simulator and evaluate performance using GORE® PHASEFLEX® Microwave/RF Test Assemblies. The live demo schedule (Booth 1045) is as follows:

Wednesday, April 26, 5:00 PM
Thursday and Friday, April 27-28, 1:00 PM
For more information on GORE® Military Fabrics and GORE® Cables and Materials, visit Gore at the 2017 Army Aviation Mission Solutions Summit in Nashville, TN, April, 26-28, in Booth 1045. Additional details can be found at gore.com/armyaviation2017.
About W. L. Gore & Associates, Inc.
Gore is a technology-driven company focused on discovery and product innovation. Well known for waterproof, breathable GORE-TEX® fabric, the company's portfolio includes everything from high-performance fabrics and implantable medical devices to industrial manufacturing components and aerospace electronics. Founded in 1958 and headquartered in Newark, Delaware, Gore employs more than 10,000 associates with manufacturing facilities in the United States, Germany, the United Kingdom, Japan and China, and sales offices around the world. Gore is one of a select few companies to appear on all of the U.S. "100 Best Companies to Work For" lists since the rankings debuted in 1984. The company also appears regularly on similar lists around the world. Learn more at gore.com.
GORE, GORE-TEX, GORE-FLIGHT, PHASEFLEX and designs are
trademarks of W. L. Gore & Associates.
Nomex is a registered trademark of Dupont.