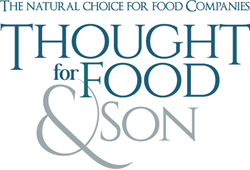 Marlborough, MA (PRWEB) April 25, 2017
Thought For Food & Son, LLC, a leading creative boutique that specializes in the food industry announced today that their turn-key Blogger Recipe Challenges are producing tremendous results for food companies nationwide. Thought For Food & Son's Blogger Recipe Challenges are an excellent way for food companies to introduce consumers to their products, but more importantly, how to use their products in the comfort of their own homes. Thought For Food & Son's Blogger Recipe Challenges enhance food companies existing social media platforms, drive user generated content and create "BUZZ" of their products and brand across multiple social media platforms.
Thought For Food & Son's Blogger Recipe Challenges are a complete turn-key program where Thought For Food & Son tracks each blogger from start to finish. Each challenge has between 50-75 bloggers competing for prize money by developing original recipes using the participating food company's products. Each blogger recipe must be posted on their blog, Facebook, Twitter and Instagram platforms. Thought For Food & Son has a proprietary database of over 800 bloggers segmented by topical content of individual blogs. Thought For Food & Son has implemented blogger recipes challenges for leading food companies such as JSL Foods, Cape Cod Select, CFE International, Steviva and Stirrings Cocktail Mixers.
In a 3 month period of time, Thought For Food & Son's Holiday Blogger Recipe Challenge for Cape Cod Select produced enormous amounts of user generated content and "BUZZ" creating a strong group of brand advocates for Cape Cod Select and its frozen cranberries. The results from the Cape Cod Select Holiday Blogger Recipe Challenge were:

14 Million Impressions
3.9 Million Unique Visitors
207 Total Blog Comments
1,919 Facebook Likes & Shares
7,291 Re-Pins
883 Re-Tweets
20,659 Instagram Likes & 837 Comments
419 Yummly Shares
125 Recipes and Product Photos
"Our clients have been extremely excited about our blogger recipe challenges and how successful they have been," said Ethan Casucci, Director of Client Services at Thought For Food & Son. "Not only do these programs create an enormous amount of brand awareness and user generated content for our client's products, it also helps with their website SEO."
Thought For Food & Son also offers its clients a range of social media programs that include Blogger Outreach for Product Launches and/or Product Reviews, Twitter Parties, Recipe Videos for Facebook, Twitter and Instagram, Brand Ambassador Research & Paid Sponsorship Programs and Facebook, Twitter and Instagram Daily Maintenance and Paid Advertising.
"We are thrilled about our new blogger recipe challenge program and how successful it has been for our clients. We are excited to be taking the lead of using a more in-depth approach and perspective to help increase our client's social media presence and authority." added Casucci.
Thought For Food & Son has worked with such fine companies as Sea Watch International, famous Hollywood actor Paul Sorvino Foods, Fonterra Brands, Cape Cod Select, Bakery On Main, New York Ravioli & Pasta Company, New England Natural Bakers, SuperSeedz, Paesana Italian Products, Northern Wind, 505 Southwestern Sauces & Salsas, Big League Chew, Stirrings Cocktail Mixers, Steviva, JSL Foods, Plocky's Fine Snacks and Dell's Maraschino Cherries.
About Thought For Food & Son, LLC
Founded in 2005, Thought For Food & Son, LLC is a leading creative boutique that specializes in the food industry. We offer our clients a combination of expertise and value that is unsurpassed within the food industry. We're a communications company without the traditional agency "BS." Thought For Food & Son operates as a "Strategic Resource" for its clients offering public relations, advertising, packaging design, social media, recipe videos and brand development. Our focus is to create communication strategies using our proprietary PR FOOD MEDIA INDEX for clients who believe in powerful thinking. Thinking that demands notice. The kind of thinking that inspires people to take action and enables our clients to grow and prosper. For more information about Thought For Food & Son e-mail alan(at)tffandson.com