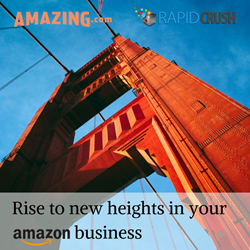 Valencia, California (PRWEB) April 24, 2017
RAPID CRUSH, the global leader in Amazon private label seller training, has combined forces with Amazing.com!
Amazing.com released Amazing Selling Machine 7 (ASM7) on April 19, 2017. The course teaches people how to leverage the power of Amazon to get a piece of its $135 billion sales. With the vast potential Amazon's growing international marketplace offers, Amazing Selling Machine has never been more valuable for potential entrepreneurs everywhere.
In all previous launches of ASM, Rapid Crush set the standard by leading in sales and recruitment. Today, Rapid Crush provides all of the tools and expertise to grow your Amazon business to levels that can provide financial independence!
"We focus on your success and accelerating the growth of your business." said Wilson Mattos, Co-Founder and Chief Operating Officer. "We have partnered with some of the leaders in the Amazon seller business. Folks like Ben Cummings, Sellics, Manage by Stats and PPC Entourage to name just a few."
To learn more about ASM7 and Rapid Crush visit http://webfini.co/amazingsellingmachine.
ABOUT RAPID CRUSH
Rapid Crush, Inc. was founded in 2011 by Jason Fladlien and Wilson Mattos and is based in Valencia, California (just North of Los Angeles). Rapid Crush provides streamlined services and top notch education in digital marketing. Rapid Crush helps drive annual seller sales volume that now exceeds $125 Million in over 20 countries. With teams on every continent (except Antarctica), the sun never sets on Rapid Crush.