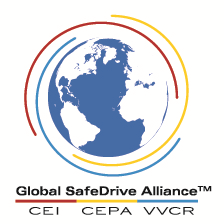 Tampa, Florida (PRWEB) April 25, 2017
The Global SafeDrive Alliance™, formed by three leading fleet driver safety companies, to deliver the first turnkey, fully integrated multinational fleet safety program, will demonstrate its new global reporting dashboard at its booth #140 at the NAFA Institute and Expo. The conference runs from 4/23 – 4/26 at the Tampa Convention Center in Tampa, Florida.
The CEI Group, Inc., CEPA SafeDrive, and VVCR International formed the alliance last fall, and development of the global reporting tool addresses a significant challenge for multinational fleet managers, says Fernando Cammarota, CEO of CEPA International.
The global reporting platform includes reports on accident rates, injuries, accident types, preventable vs. non-preventable accidents, driver training compliance rates and customized benchmarking criteria, among others. Regional and local reports are accessible through pertinent alliance member links.
Representatives from each Global SafeDrive Alliance member will be on hand at the NAFA conference to discuss and present all aspects of the global reporting portal.
About CEI
CEI, a fleet driver management company, is a leading provider of technology-enhanced driver safety, fleet risk management, and vehicle accident services. DriverCare™ Risk Manager, CEI's online safety service, centrally houses all of the tools and information used to create risk levels for drivers and managers. Always evolving the DriverCare product lineup, CEI leverages the latest technologies in ways that save fleet managers and driver's time, while also finding the drivers who need to improve. Using continuous monitoring, telematics, and prescriptive analytics allows CEI to find "hidden" at-risk drivers before they run into problems. CEI consults with clients to help provide solutions that change driver behavior and reduce accidents.
Founded in 1983, CEI has headquarters near Philadelphia, PA, and field sales offices in Trevose, PA; Tulsa, OK; Atlanta, GA; Dallas, TX, and Minneapolis, MN. In 2000, CEI launched its DriverCare™ solution, which includes fleet risk management, MVR ordering and compliance, on-line and behind-the-wheel driver safety training and a safety newsletter. For more information about CEI, please visit ceinetwork.com
About CEPA SafeDrive
Based in Brazil and with offices in five countries, CEPA (Centro de Prevención de Accidentes) has been a leader in Fleet Safety in 28 countries across Latin America and the Caribbean since 1987. Specialists in road safety and risk management, it has developed and operated programs for small, medium and large fleets for all classes of vehicles, from sedans to buses, vans, trucks and motorcycles. For more information, please visit http://www.cepasafedrive.com.
About VVCR International
Headquartered in the Netherlands, Europe, VVCR International has been a leading driver training and fleet risk management business since 1972. Today, it has customers in more than 95 countries and provides solutions in over 35 languages. VVCR specializes in using behavior-based, scientifically proven methodologies to deliver consistent and quality-controlled global driver safety programs, with special experience in Europe, the Middle East, Africa and the Asia-Pacific region. For more information, please visit https://www.vvcr-international.com.
# # #