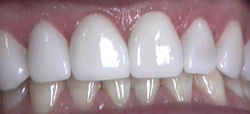 In recent years, up to 40 percent of my practice has come from correcting cosmetic dentistry that did not achieve what the patients wanted.
San Antonio, TX (PRWEB) April 24, 2017
The bar for just about everything—apparel, eyewear, cars and even phone cases—is set sky-high by the glitterati, those unreal icons inhabiting the rarified air of pop and film stardom.(1) Not to be left out is that most desired of commodities, especially by the paparazzi and anyone snapping pictures: the smile. Grins now run the gamut from being encrusted with jewels and precious metals to, at the very least, being gleaming white and totally perfect—like those provided by Cosmetic Dental Associates (CDA). The urgent desire for impeccable appearance is drastically intensified by the facial close-ups and smiles spread throughout social media—Facebook, Instagram, Snapchat, and a rapidly growing number of other platforms.
Responding to the overwhelming demand for that irresistible smile throughout the world, the ranks of the cosmetic dentistry profession have swelled.(2) Since 2004, it has exploded from a $35 billion to a $55 billion industry. And this isn't just in the stargazing United States—it's also surged in the Middle East, South America, and even China.(3)
But just as in entertainment, there is no such thing as an overnight sensation. That doesn't stop some practitioners, though, who jump in before their skills are truly honed. This becomes quite evident when their work, expected by patients to be wonderfully brilliant, results in the ghastliest of grins. In fact, one Texas cosmetic dentist makes a considerable portion of his revenue correcting sub-par cosmetic dentistry.
"In recent years, up to 40 percent of my practice has come from correcting cosmetic dentistry that did not achieve what the patients wanted," said John Moore, Jr., DDS, of San Antonio, Texas, principal of Cosmetic Dental Associates (CDA), who has performed tens of thousands of cosmetic dental procedures on high-end clients. "It's very sad—I had one female patient who wouldn't even go out on dates until her dental work was corrected. I had another man who hadn't dated a woman in 20 years."
The darker side of cosmetic dentistry is reflected in ugly statistics: the correction of botched cosmetic dental work has increased from 30 to 40 percent since 2004. In fact, 2004 saw $10 billion spent to correct mangled dentistry, whereas $16 billion was spent in 2016. Dr. Moore points out that with the number of cosmetic dentists increasing by 16%, the dollar amount spent on botched jobs is more like nearly $20 billion, or about 40% of the overall work done.(4)
Several years ago, Dr. Moore decided that if his patients desired utter perfection in beautiful smiles, he would deliver it. He saw the future for cosmetic dentistry—at least for his practice—in its artistry. Having a formal education in art himself, he went further in his artistic quest and sought out an award-winning diamond cutter, spending a considerable amount of time learning from him.
Moore accomplished 8 years of formal art training, with another 4 years as an illustration artist hired by University of Texas HSC Dental School to illustrate training manuals, books and videos for teaching dental students. Coupling that with the traditional math and sciences learned by most dentists, he was able to bring together the way a diamond-cutter works to create facets on porcelain restorations.
He set out to create a smile that radiates the same attention to precision and detail as that given to diamonds. Today, VIPs, financial professionals and even those aspiring to be celebrities (or be like them) seek out Dr. Moore's work to obtain the same brilliance in their smiles as that only found in the rock itself.
Dr. Moore's office design also represents his dedication to this artistry—it's designed as the kind of beautiful dental grill he delivers to his perfection-seeking patients.
As attested to by jewelers and gemologists across the world, no other gem can radiate like a diamond does. Dr. Moore decided to prove that a tooth could do the same, and it's the cut of a diamond that determines its fire, brilliance, and scintillation (flash or sparkle of light). Hence, it's the cut that is given the most attention by Dr. Moore when it comes to a tooth.
Now people can have a smile that shines like a diamond—literally.
About Cosmetic Dental Associates (CDA)
World-renowned cosmetic dentist Dr. John Moore, Jr., established Cosmetic Dental Associates (CDA) in San Antonio, Texas, more than 35 years ago. Educated as an artist and seeking the pinnacle of artistry for his profession, Dr. Moore is a pioneer of real aesthetics in cosmetic dentistry. Additionally, CDA is among a select group of ultra-modern cosmetic dental offices that can offer patients treatments with solutions designed in an in-office dental lab. Visit https://33smile.com.
About Dr. John Moore, Jr.
Dr. Moore decided to dedicate his life to dentistry after an orthodontist literally saved his smile from buck-toothed ruin at a young age. In addition to the normal training of a dentist in traditional math and sciences, Dr. Moore took the highly unusual step of engaging in formal art education, as well. This combination has enabled a career of creating beautiful smiles on the rocks: life-like diamond-cut teeth that have empowered his patients to command the careers and live the lives they've always wanted.
1. Yagoda, Maria. "From Gold Grillz to Diamond-Encrusted Bath Tubs: The Most Extravagant Celeb Gifts Ever." PEOPLE.com. Time Inc, 12 Jan. 2017. Web. 18 Apr. 2017.
2. "The Perfect Smile: A Demand for Cosmetic Dentists." The Dental Geek. N.p., n.d. Web. 18 Apr. 2017.
3. "World Cosmetic Dentistry Market 2015-2020 - Dental Implants, Bridges, Crowns, Orthodontic Braces, Lasers, Veneers, Handpieces, Bonding Agents, Chairs & CAD/CAM." Business Wire. N.p., 07 Dec. 2015. Web. 21 Apr. 2017.
4. Efrati, Amir. "New Business for Dentists: Fixing Botched Cosmetic Work." The Wall Street Journal. Dow Jones & Company, 29 June 2004. Web. 24 Apr. 2017.