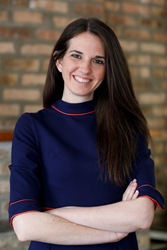 Bright Pink has a wonderfully bright future ahead and Katie is a visionary leader who will steward big growth.
CHICAGO, IL (PRWEB) April 24, 2017
Today, Bright Pink, a national non-profit organization focusing on the prevention and early detection of breast and ovarian cancer in young women, names a new CEO.
Bright Pink is proud to announce Katie Thiede as their new Chief Executive Officer. In January, founder Lindsay Avner announced she would be moving to a new role as Chairman of the Board and launched a national search to find a visionary new leader to grow Bright Pink into the next decade. Katie was selected from a competitive slate of candidates and will begin her new role on May 8.
The leadership change comes at a time when the organization, now in its second decade, is laying the groundwork for exponential growth in both its fundraising and programmatic reach.
"I'm incredibly proud of the foundation that has been laid in Bright Pink's first decade," says Lindsay Avner, "We've directly reached over a half a million young women and health providers with truly life-saving programming focused on early intervention and prevention, and now is the time to take the next step. Bright Pink has a wonderfully bright future ahead and Katie is a visionary leader who will steward big growth."
Thiede has dedicated her entire career to serving organizations that exist so that people, especially women, can live their best lives. Most recently she served as Vice President of Development for Planned Parenthood of Illinois, where she has more than tripled annual philanthropic revenue to over $12 million in just four years, led the Illinois affiliate to become among the most successful affiliates in the nation, and led several cross-functional organization-wide strategic initiatives. Thiede has also served as the Executive Director of the Chinook Fund in Colorado, where she set the strategic direction of the organization, and previously held leadership roles at the Cystic Fibrosis Foundation, Rape Assistance and Awareness Program and Clean Water Action.
"This is a dynamic time for Bright Pink and the organization is well-poised for strategic growth," says Katie Thiede. "As Bright Pink's next CEO I will uplift and leverage the successes the organization has had, build on them, and expand Bright Pink's reach and impact in new and exciting ways."
Avner founded Bright Pink in 2007 after discovering she had a BRCA1 gene mutation and becoming the youngest woman in the country at the time to undergo a preventative double mastectomy. Since its inception in Chicago, Avner has grown Bright Pink into a nationally prominent breast and ovarian health organization. Through an award-winning digital strategy and network of trained education ambassadors and medical lecturers, the organization's indirect impact has grown to over 25 million women nationwide. Bright Pink's programs include digital tools that help women assess their risk for breast and ovarian cancer and explore genetic testing for cancer-causing gene mutations; in-person educational workshops that teach young women breast and ovarian health basics; and training for health providers designed to help them deliver improved breast and ovarian care and risk management options to their patients.
Bright Pink is a national authority on breast and ovarian health, with their work recognized by the National Society of Genetic Counselors and with Avner, on behalf of Bright Pink, named an Ambassador to the Centers for Disease Control and the Office on Women's Health during National Women's Health Week.
Thiede's appointment signals that another growth period is ahead for Bright Pink.
About Bright Pink®
Bright Pink is a national non-profit focused on the prevention and early detection of breast and ovarian cancer in young women. The organization's mission is to save women's lives from breast and ovarian cancer by empowering them to live proactively at a young age. Bright Pink's innovative programs educate and equip young women to assess their risk for breast and ovarian cancer, reduce their risk, and detect these diseases at early, non life-threatening stages. Recently launched, ExploreYourGenetics.org, provides women comprehensive information about genetic testing and breast and ovarian cancer-influencing mutations. Founded in 2007, Bright Pink strives to reach the 52 million women in the U.S. between the ages of 18-45 with this life-saving education. Put Awareness In Action™ at BrightPink.org.