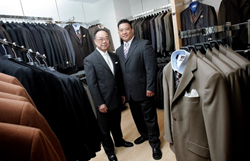 (PRWEB) April 24, 2017
According to a recent Forbes article, "One tiny detail can have a big impact when it comes to getting the job. And what you wear has a lot to do with it."
Co-owner of Jimmy Au's Clothing For Men 5'8" and Under, http://www.jimmyaus.com/ shares some of his insight on how people, particularly shorter men, can dress for success.
"I think what you wear can play a very critical role when meeting your interviewer," says Au. For shorter men, being poorly dressed, meaning wearing clothes that are too big or out of proportion, creates an even greater illusion of being short. For some, there is a degree of bias against a shorter applicant."
While job related skills and experience inevitably land a person the job, how an applicant dresses can play a crucial role. As stated in the article, "in the first 10 seconds of meeting, an employer can tell whether or not you are a good for the job." The first thing someone notices is appearance, and often times looking the part and dressing for a position can give off an initial sense of professionalism.
According to Au, who alongside his father Jimmy Au have been pioneers in designing clothing catered for shorter men, "One must dress in clothes that at the very least, fit properly. But even better so, clothes that are proportioned."
While suits can often be expensive, wearing proportioned, well-fitted clothes are worth the investment. At the very least, Au suggests altering an inexpensive suit in order to achieve the sophisticated look, without investing too much money.
"When you look good, you feel good, and when you feel good, that confidence translates well in an interview," states Au.