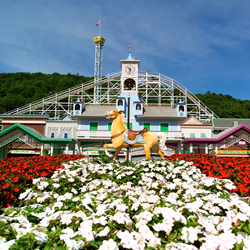 Bristol/Southington, CT (PRWEB) April 24, 2017
This season, Lake Compounce is filled with new and exciting events that are scheduled throughout the summer! From food truck festivals to wiener dog races, everyone is sure to have unforgettable fun this season! Lake Compounce is the oldest, continuously operating amusement park in North America and is home to the world's #1 wooden roller coaster, Connecticut's largest water park, over 50 rides, shows, and attractions, and has been voted Trip Advisor's Certificate of Excellence for four consecutive years. Visit Lake Compounce in 2017 and experience unforgettable moments the entire family will enjoy!
15 Reasons to Visit Lake Compounce:
1. Opening Day of Lake Compounce – Saturday, May 6 – Be the first to experience over 50 rides, shows, & attractions during the official opening day of the 171st season of Lake Compounce!
2. American Red Cross Blood Drive – Sunday, May 7 – All donors will get FREE admission to Lake Compounce on May 7th and will receive a regular admission ticket to return to the park any time before September 4, 2017. The American Red Cross will be at the park from 10am-3pm accepting donations.
3. Walk for Wishes – Saturday, May 13 - Walk for a cause during the 1st Annual 5K Make-A-Wish Walk at Lake Compounce! Participants will walk through Lake Compounce and Bear Creek Campground. Learn more and register at: https://www.lakecompounce.com/site/events
4. Mother's Day at the Lake – Sunday, May 14 – Moms get in FREE when a family member buys a regular admission ticket online! Let mom relax and unwind at the relaxation station, set up in front of Rev-O-Lution from 12pm-3pm with complimentary fresh fruit and sangria! Arts and crafts will be provided for the kids to play with while mom relaxes.
5. Craft Beer and Food Truck Festival – May 20 & 21 – Favorite local breweries and food trucks will be at Lake Compounce! Breweries such as Two Roads, Thomas Hooker, Back East, 744 Express, The Whey Station, Lenny & Joe's and more will all be at Lake Compounce for these two days only!
6. Pink's 4th Annual Wiener Dog 100! – Saturday, May 27 – 100 of the cutest wiener dogs will race their way to victory! After the race, watch a doggy costume parade and a Pink's Hot Dog eating.
7. Opening of Crocodile Cove – Saturday, May 27th – Welcome summer with the opening of Crocodile Cove, the LARGEST water park in Connecticut!
8. Memorial Day Weekend BBQ – May 28 & May 29 –Guests are able to purchase a $15 voucher that grants them access to the Lake Compounce Watering Hole patio for a 2 hour unlimited BBQ buffet and a complimentary beverage of their choosing.
9. Talent Show – Sunday, June 4 – Park goers can showcase their talents for all to see in the Starlight Theater. Preregistration is required; to sign up, e-mail sociallc(at)lakecompounce.com.
10. Wildcat Turns 90! – Saturday, June 10 –Celebrate Wild Cat with Lake Compounce for the 90th birthday celebration of the classic wooden roller coaster!
11. Father's Day – Sunday, June 18 –The Father's Day celebration will feature FREE beer tasting from local Connecticut craft breweries and a car show!
12. Autism Awareness Day – Sunday, June 25 - Lake Compounce is proud to welcome Autism Speaks back to the park for Autism Awareness Day. Autism Speaks will be at the park with information for families.
13. Wine and Paint Class –June 28, July 28, August 24 - Class begins at 6:00pm at the Lake Compounce Watering Hole. The park will cover the art supplies and wine is available for purchase. Email sociallc(at)lakecompounce.com to sign up in advance and receive (1) one complimentary glass of wine.
14. Independence Day Celebration – Saturday, July 1 –Spend all day in Crocodile Cove and then spend a night watching the unforgettable 4th of July firework spectacular!
15. Special Discounts:

Buy a Ticket, Get one FREE – May 6, 20, & 21
o Buy a ticket and get one free on Opening Day and during the Craft Beer & Food Truck festival. Tickets must be purchased online in advance. Valid for use on May 6, 20, or 21.

Good Grades Days – June 23 & June 24
o Lake Compounce is giving kids with grades higher than a B (80%) FREE admission with purchase of one full priced regular admission ticket. Offer available in park only with the same day purchase of a full price regular admission ticket. Child's report card must be presented upon arrival.

Hero Appreciation Day – Friday, July 14
o First Responders get into Lake Compounce FREE when a family member buys a regular admission ticket. First Responders include: Firefighters, Police Officers, EMTs, and Dispatchers. Buy online – valid ID verification through I.D. me.
About Lake Compounce & Palace Entertainment
Lake Compounce is New England's premier family theme and water park and is located in Bristol, CT. Featuring over 50 rides, shows, and attractions, Lake Compounce is the oldest continuously operating amusement park in North America, celebrating its 171st season. This park is home to Connecticut's largest water park, Crocodile Cove. Lake Compounce is owned and operated by Palace Entertainment, one of the leading leisure park operators in the United States. Palace Entertainment owns and operates eight water parks, six theme parks, two animal parks, and five family entertainment centers across 10 different states. For more information, please visit lakecompounce.com, or connect with us on Facebook, Twitter, and Instagram.