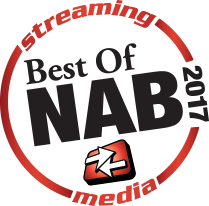 Medford, N.J. (PRWEB) April 25, 2017
Each year, NAB in Las Vegas is the largest gathering of video professionals in the world and the place where vendors release the latest and greatest products and services for this fast-growing sector. And every year, the editorial staff of Streaming Media and Streaming Media Producer scours the show floor to select the best new technologies.
For its fifth-annual Best of NAB Awards, Streaming Media will announce the winners live from NAB on its IBM Cloud Video channel. Editors Eric Schumacher-Rasmussen and Troy Dreier will announce the winners and interview Streaming Media contributing editor and Streaming Video Alliance executive director Jason Thibeault and Streaming Media Producer contributing editor Shawn Lam about the most notable trends they're seeing at NAB 2017.
Viewers can watch the webcast live at 4 p.m. ET/1 p.m. PT on Wednesday, April 26. Streaming Media will be delivering the webcast on the StreamingMedia.com homepage as well as on its Facebook page and Twitter feed. Click here to get a calendar reminder so you don't miss out!
About StreamingMedia.com Events
StreamingMedia.com's conferences and expositions are the largest and most prestigious events in the world for the business of video and audio on the internet. Bringing together leading companies and technologies, StreamingMedia.com events are the industry's meeting place for streaming media professionals who want to learn, network, and make business deals. Executives and decision makers from all over the world attend these annual events in New York, California, and London. Focused on the "business" of streaming media in the media and entertainment, enterprise, education, and broadcast sectors, these shows are the industry's leading forum, where digital media experts and professionals come to exchange ideas, strategies, and success stories.