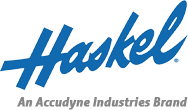 We have a long proven track record in high pressure hydrogen gas applications. Our sealing and high pressure containment for the H-Drive was based on this track record. - Global Product Manager Paul Harrison
Burbank, CA (PRWEB) April 25, 2017
Haskel International, a global leader in high-pressure solutions and an Accudyne Industries brand, will share the official launch of its H-Drive gas booster in Germany at the Hannover Messe Group Exhibition for Hydrogen, Fuel Cell and Batteries, April 24-28.
Following a rigorous development program to guarantee the highest degree of quality and reliability, the company is excited to offer the hydraulic-driven gas booster, H-Drive, to the market. The equipment is designed for a variety of gas applications, many related to the clean energy market. These applications include charging large volume, high-pressure hydrogen storage vessels needed for hydrogen vehicle refueling and constant energy supply systems.
The H-Drive design and technology takes into account future developments in the hydrogen market and maintains a keen focus on user safety. The product reduces maintenance requirements with its unique self-lubricating seal design that delivers gas-tight, non-contaminating compression. The product features help drive down the life cost of the product, an important issue in the drive for a low-cost, sustainable energy future.
Haskel revealed the H-Drive for the first time at last year's show in Hannover. This show, which is a prominent event for leaders in hydrogen and fuel cell industries, allowed Haskel to gain product insight from their audience.
"When we revealed the H-Drive to the Hannover audience last year, they were very pleased that the equipment could accommodate the foreseeable changes in the hydrogen market. These include higher flow and pressure capacity, the use of materials that resist hydrogen embrittlement and our approach to help maintain a cost-effective product," said Haskel Global Product Manager Paul Harrison.
Advancements in new and clean energy have spurred rapid growth in the hydrogen market. Such growth has caused a need for safe and efficient equipment to serve this industry, two of Haskel's core strengths.
"We have a long proven track record in high pressure hydrogen gas applications. Our sealing and high pressure containment for the H-Drive was based on this track record. We are entering exciting times; we have the best-in-class compression and control equipment for high pressure gases," said Harrison.
To learn more about the H-Drive gas booster or any of Haskel's high-pressure products, visit them in booth E71/1 during the Hannover Messe Hydrogen, Fuel Cell and Battery group exhibition April 24-28. If you are unable to attend the show, you can contact a Haskel representative by visiting http://www.haskel.com/contact-us/.
About Haskel
With over 70 years of unrivaled expertise in high-pressure, liquid and gas transfer and pressurization technology, Haskel is the solution provider for applications in aviation, defense and aerospace, oil and gas and other critical industries. Haskel meets complex and critical challenges with innovative solutions that ensure safety, reliability and the highest quality. As the clear market leader in high-pressure pumps, Haskel products are made to fit customer needs and market demands. Whether working in oil and gas, automotive and defense or extracting cannabis oil in the emerging medical market, every Haskel product provides the performance that is expected from a global leader.