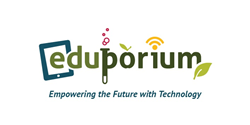 Knowledge is cool and for that, all students who participate have the chance to be rewarded with $100 a day for a year.
WATERTOWN, Mass (PRWEB) April 26, 2017
Massachusetts-based educational technology start-up, Eduporium, today announced the launch of a new trivia-style contest with $100 in prizes given away to one winner each day for a year. Set to begin on May 1, this contest is open to all members of the K-12 community Eduporium serves and will feature questions from all areas, including science, history, geography, math, and more.
Eduporium will post the daily trivia question at the same time and in the same place each day. The first person to submit a correct answer will be that day's winner and notified by email. Eduporium's contest was designed to deepen the company's engagement with the education community and help kids become more familiar with technology and the skills needed for the modern world.
"Knowledge is cool and for that, all students who participate have the chance to be rewarded," said Eduporium co-founder and President, Rick Fredkin.
The goal of the contest is to create a renewed sense of excitement in learning and to give students and teachers something unique to look forward to at the same time. With a consistent approach and a new chance to win every day, Fredkin and his start-up team hope their idea will catch on throughout K-12 schools across the country.
"We think the beauty of it is that there will be questions for everyone. While one day there might be a tough question that only high school-aged kids will know, other days there will be questions designed for early elementary students on topics that high schoolers have perhaps forgotten about," Fredkin said.
To participate in the contest, students and teachers can go to try.eduporium.com/giveaway-contest/ and sign up to receive email alerts. Once entered, all entrants (as many students can enter as they want) will receive an email with further instructions and a reminder of when the contest is set to begin (May 1).
"You know, we think this will be a good way to engage more with students and teachers in schools that aren't exactly local and those in which it would otherwise be harder for us to build a relationship with. This contest will hopefully help us establish some new relationships and we're real excited about being able to give away $100 to our store every day for a year," said Fredkin.
The daily prize of $100 will be in the form of a gift card to Eduporium's online store and has been provided by the Guzik Foundation. Eduporium's store features a host of innovative EdTech and STEM education products, including 3D printers, coding kits, robots, CNC machines, and a lot more. The contest kicks off on May 1. For more information and to sign up, visit try.eduporium.com/giveaway-contest/.