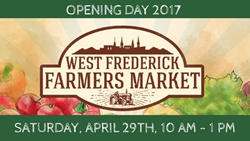 (PRWEB) April 26, 2017
The 2017 season for the West Frederick Farmers Market is fast approaching and the market is embracing the new season with a fresh start. West Frederick Farmers Market will now be held at The Great Frederick Fairgrounds beginning on opening day, Saturday, April 29th, 10 am – 1 pm.
"The move for the market is one that our organization feels will be beneficial to all involved," says Market President, John Sexton. "We worked tirelessly to find a new space after our previous lease was not renewed and the move to the fairgrounds is a positive one. This partnership will bring new customers, increase exposure for our vendors and will offer plenty of parking to our customers along with all of the great offerings we have always provided."
As always, there will be much to be seen, enjoyed and taken home at this long standing farmers market. Visitors will continue to enjoy a plethora of local produce, meat, dairy, baked goods and even wine brought to the market by over 30 vendors. West Frederick Farmers Market is the largest in Frederick County and is the only market in the area to feature goods exclusively grown and produced in the immediate area.
The market will be open every Saturday beginning April 29th until November 18th, 10am to 1pm and at The Great Frederick Fairgrounds, 797 E Patrick Street, Frederick, MD, 21701.
For more information on the West Frederick Farmers Market and complete list of vendors, please visit http://www.westfrederickfarmersmarket.com.