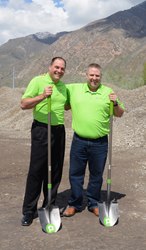 "(We) look forward to continued growth and what that will mean for the real estate agents and brokers we serve."
Springville, UT (PRWEB) April 26, 2017
Circlepix broke ground to mark the construction of new office and event spaces at the Circlepix headquarters in Springville, Utah on April 14. The new facilities will include 10,500 square feet of office space, a 2,500-square foot event center, and a full size outdoor basketball court.
The groundbreaking for two new buildings is yet another signifier of the rapid growth Circlepix has experienced over the last 18 months, fueled in large part by the success of Circlepix's social media automation software, PIXsocial.
"We're bursting at the seams," says Robert Davis, Chief Executive Officer of Circlepix. "Adding two new buildings to our campus will give us space to accommodate our current operations and allow space for the growth we expect in coming years."
Circlepix's Springville campus was first constructed in 2006 with two buildings after the company outgrew its office space in Orem, Utah. Recently, Circlepix also leased space in the nearby Liberty Building in Springville to accommodate its growing inside sales team.
In addition to the two new buildings, Circlepix is renovating its main corporate building, adding another 1,200 square feet of office space to the second floor.
"The level of growth we've experienced is unprecedented," says Greg Gehring, Chief Operations Officer. "We're incredibly proud of the success we've achieved with PIXsocial and PIXmarketing, and look forward to continued growth and what that will mean for the real estate agents and brokers we serve."
The expected completion of the new buildings is slated for March 2018.
About Circlepix: Circlepix is the leader in real estate marketing automation, with over 100,000 agents across the US and Canada using its services. Its three core platforms - PIXphotography, PIXmarketing and PIXsocial - give real estate agents the tools they need to sell homes faster and for more money.
About PIXsocial: PIXsocial is the leading social media automation tool for real estate agents, posting automated and customized content to agents' social media pages according to their preferences. Content types include interest articles, holiday greetings and listings from within the same brokerage.