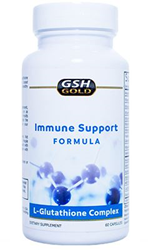 New York, NY (PRWEB) April 26, 2017
L-Glutathione is the body's most powerful and vital antioxidant. GSH Gold, a supplement anchored by Setria® L-Glutathione, takes immune protection using glutathione to a new level.*
GSH Gold is a glutathione-enhancing supplement taken daily to not only increase amounts of this master antioxidant, but also contains precursors that improve natural glutathione synthesis while reducing damage caused by antioxidants and other toxins.*
Each capsule contains 200mg of Setria® L-Glutathione, a well-studied and unique form of L-Glutathione that is stable when exposed to stomach acid for enhanced absorption. It provides intracellular antioxidant support, benefits cellular detoxification, and supports a healthy immune response.*
GSH Gold helps increase glutathione levels via three distinct pathways:

Directly enhancing glutathione levels with Setria® L-Glutathione
Promoting natural glutathione production with proven, effective precursors
Improving the body's methylation cycle with a specially formulated vitamin complex that helps recycle oxidized glutathione back into its active form
About GSH Gold
By promoting glutathione levels and cellular function, GSH Gold helps optimize immune health and energy levels. Using specially formulated ingredients to target mitochondrial health and function as well as DNA health.
Effectively detoxifying the body on a cellular level, chelating heavy metals and repairing damaged cells is our aim at GSH Gold. In order to do this, we provide customers with a complete, total body health supplement which is unmatched in quality and value; the ultimate "One-A-Day". For more information, visit http://www.gshgold.com.
About Setria® Glutathione
Setria® Glutathione, manufactured by Kyowa Hakko Bio Co., Ltd., is a clinically studied and patented form of glutathione that, when taken orally1, has been shown to replenish the body's reserves, which may be depleted as a result of poor lifestyle choices, stress or natural aging. Called the "master antioxidant," glutathione helps protect cells in the body from the damaging effects of oxidative stress and toxins. Setria® Glutathione is manufactured through a patented fermentation process to yield high purity and high quality, is vegetarian and allergen-free. For more information about Setria® Glutathione, visit http://www.SetriaGlutathione.com.
About Kyowa Hakko USA
Kyowa Hakko USA is the North & South American office for Kyowa Hakko Bio Co. Ltd., an international health ingredients manufacturer and world leader in the development, manufacturing and marketing of pharmaceuticals, nutraceuticals and food products. Kyowa is the maker of branded ingredients including Cognizin® Citicoline, Lumistor® L-Hydroxyproline, Pantesin® Pantethine, Setria® Glutathione, as well as Sustamine® L-Alanyl-L-Glutamine. For more information, visit http://www.kyowa-usa.com.
References
1 Richie JP Jr, Nichenametla S, Neidig W, Calcagnotto A, Haley JS, Schell TD, Muscat JE. Randomized controlled trial of oral glutathione supplementation on body stores of glutathione. European Journal of Nutrition. May 2014: 1436-6207. doi: 10.1007/s00394-014-0706-z
*These statements have not been evaluated by the Food and Drug Administration. This product is not intended to diagnose, treat, cure, or prevent any disease. ** Setria® is a registered trademark of Kyowa Hakko Bio Co., Ltd.