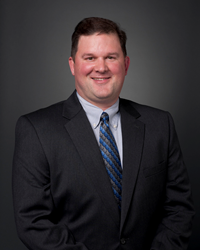 Charlotte, North Carolina (PRWEB) April 26, 2017
Okuma America is uniting its sales and marketing functions to enhance the company's ability to respond to customer needs in the marketplace. As CNC machine technology becomes more sophisticated and customizable to each user's unique requirements, full-circle communications must be in place to connect issues and trends in the shop with the latest in machine tool advancements.
To implement this unification process Okuma America announces the following positions.
Tim Thiessen – Vice President of Sales and Marketing
Tim Thiessen is appointed Vice President of Sales and Marketing for Okuma America Corporation. Previously Tim held the position of Vice President of Sales since 2011. He joined Okuma in 1991 as applications engineer and has held positions of progressive responsibility in his 25+ years with the company, including roles in sales and engineering. He earned his B.S. in Industrial Management and Technology from Berea College (Berea, KY).
Annette Carroll – Director of Marketing
Annette Carroll joins Okuma America Corporation as the company's Director of Marketing. Annette brings 20+ years of experience in industrial marketing to Okuma and has held various marketing director and manager roles at Sealed Air Corporation, tesa tape, inc., and Siemens. Annette holds a B.A. in Communications from the University of North Carolina at Chapel Hill and select MBA certificates in Marketing Strategy and Digital Marketing from Cornell University and Rutgers University respectively.
About Okuma America Corporation
Okuma America Corporation is the U.S.-based sales and service affiliate of Okuma Corporation, a world leader in CNC (computer numeric control) machine tools, founded in 1898 in Nagoya, Japan. The company is the industry's only single-source provider, with the CNC machine, drive, motors, encoders, and spindle all manufactured by Okuma. The company also designs their own CNC controls to integrate seamlessly with each machine tool's functionality. In 2014 Okuma launched the Okuma App Store, the industry's only centralized online marketplace for machine tool apps and related content. Along with its extensive distribution network (largest in the Americas), and Partners in THINC, Okuma is committed to helping users gain competitive advantage through the open possibilities of machine tools, today and into the future. For more information, visit http://www.okuma.com/americas or follow us on Facebook or Twitter @OkumaAmerica.