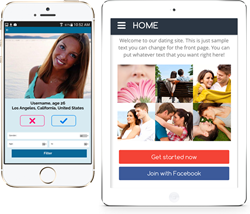 Best decision we ever made. - Zen, MultusDating.com.
Cheyenne, Wyoming (PRWEB) April 26, 2017
AdvanDate launches the White Label Dating Add-On for version 12.2 of the dating software package iCupid. This unique add-on turns your dating site into a dating network whereby you can create unlimited dating markets and share those markets with other connected dating sites. The idea is that not only can you make money from your dating site but you can also earn money from other dating sites that connect to your dating market.
Online dating is a booming market all around the world. AdvanDate, founded in 2002 and based in Wyoming, capitalized on the expansion of this segment, and offers a wide range of dating software solutions and services, including white label dating, to help its clients not only start a dating site but start a dating network empire!
AdvanDate is the most advanced, mobile friendly, feature rich dating software on the market. All that in an extremely user-friendly solution as clients can install the software and have their dating website up and running in 10 minutes. Their client Zen from MultusDating.com emphasizes, "The best decision we ever made was to use the AdvanDate Dating Solution for our multi-market niche dating network".
Along with the White Label Dating Add-On, the company is launching an updated version of 12.2 which offers more features than any other dating software application including responsive design and a mobile dating app. It also includes free installation, free support, and free upgrades. Not only is the admin fully responsive but their expert team of professionals made a bunch of tweaks and enhancements. Some of those include reducing the load time in the admin area and CSS enhancing. As Richard Jacobson, Founder and Director of Operations for AdvanDate explains, "With our latest version and add-ons, we offer 10 times more features and functions than any other dating software provider. We are constantly making the software better by adding new functions. In fact, we push about 5 updates a year, including new features and new templates."
For further information visit AdvanDate today.
AdvanDate, founded in 2002 and based in the US, offers advanced dating solutions. A highly experienced team of specialized professionals is behind the success of AdvanDate and has been nominated in the categories for Best Dating Software and Best Affiliate Program by the International Dating Conference (iDate).