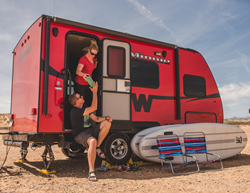 There's no need to go excessively large if your travels don't warrant a house full of stuff.
Forest City, Iowa (PRWEB) April 28, 2017
Erin and Shea Laughlin have become the newest lifestyle bloggers for Winnebago, the company announced today. The couple from Minneapolis spends 10 months of the year in their 19-foot Winnebago Minnie travel trailer. They join more than 20 other contributors at WinnebagoLife.com, a website that features inspirational posts, photos, videos, and travel tips from Winnebago owners of all ages.
The Laughlins are the first towable owners to blog at WinnebagoLife.com and represent the popular category, RVs pulled behind a pick-up or SUV. The Recreation Vehicle Industry Association (RVIA) recently reported that wholesale shipments of towables industry-wide jumped to 25,234 in February of 2017—a full 10 percent over the same month last year. Wholesale shipments are the inventory distributed to dealers. With an expanding line of travel trailers, the Winnebago brand is an emerging player in the towables category.
"We chose a trailer primarily because we wanted to separate our living space from what drives us from place to place. A travel trailer and truck also give us far more options to explore remote areas," says Erin Laughlin of their Winnebago Minnie purchase in 2016. "We love having everything basically set up and ready to go, and all we have to do is get level and put the jacks down. We also believe the affordability and flexibility is a huge draw." 
With occupations in information technology, Erin and Shea, both 32, typify the Millennials and GenXers whose increasingly flexible jobs allow more travel—a factor driving higher interest in RVs. People 35 to 54 years of age are the fastest-growing age segment of RV owners, according to the RVIA's most recent full annual report.
"We've seen consumer demand for Winnebago lightweight trailers climbing fast," said Scott Degnan, vice president and general manager of the Winnebago towables business. "Our Minnie line continues to grow in popularity because of fresh interior styling, an increasing list of features, quality craftsmanship, and novel exterior colors."
Winnebago's affordable travel trailers range from the compact, easy-to-tow Winnie Drop starting at $19,394 to the Minnie Plus—starting at $35,227, all featuring ​versatility​ and the conveniences of home. All models include a built-in refrigerator, stove, hot and cold running water, a complete bathroom, comfortable bed and a place to store gear. For families choosing a towable RV, the Laughlins have tips for choosing the right model.
"First, know how much room you really need," says Erin. "If you plan on living/working in it, make sure the layout will fit your needs. There's no need to go excessively large if your travels don't warrant a house full of stuff. Second, push on the walls. If they give, it calls into question how it's built."
Whether buying or renting, more new campers are choosing RVs over cabins and tents than ever before, says a new study—a signal the RV industry has an increasingly positive image.
"Growth in the RV industry is starting to pay dividends among the new set of campers, with one-fourth of new campers saying that they camped in an RV in 2016," says the 2017 North American Camping Report, published by Kampgrounds of America, Inc. That figure is up six percent from the previous year.
About Winnebago
Winnebago Industries is a leading U.S. manufacturer of recreation vehicles under the Winnebago and Grand Design brands, which are used primarily in leisure travel and outdoor recreation activities.  The Company builds quality motorhomes, travel trailers and fifth wheel products.  Winnebago has multiple facilities in Iowa, Indiana, Oregon and Minnesota.  The Company's common stock is listed on the New York and Chicago Stock Exchanges and traded under the symbol WGO.  Options for the Company's common stock are traded on the Chicago Board Options Exchange.  For access to Winnebago's investor relations material or to add your name to an automatic email list for Company news releases, visit http://investor.wgo.net.
For more information on Winnebago's lineup of popular travel trailers, go to https://winnebagoind.com/product-classes/travel-trailer.
# # #