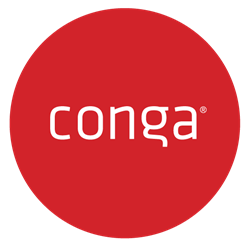 We are incredibly proud of the traction Conga has received within Salesforce's partner community
Denver, CO (PRWEB) April 25, 2017
Conga, application provider for businesses looking to optimize their CRM investments, today unveiled updates to its rapidly growing System Integrators (SI) Partner Program. Originally launched in March 2016, the program has already helped more than 350 partners to integrate Conga's cutting-edge solutions to simplify their customers' Salesforce experience.
Conga's SI Partner Program was designed to provide structured engagement with, and support for, Salesforce Consulting partners. The program provides customers with strategic guidance, deep technical skills and relevant expertise around Salesforce and AppExchange applications. For partners of all tiers, it offers an array of tools, education and resources that enable partners to successfully implement Conga solutions into joint customers' environments.
"We are incredibly proud of the traction Conga has received within Salesforce's partner community," said Susie Wallingford, manager, SI Partner Program at Conga. "We have spent the past few months seeking feedback from our top partners about the added enhancements, and the response has been overwhelmingly positive. We're looking forward to continuing to strengthen our relationships with current Conga partners as we forge new partnerships in the ecosystem."
One of Conga's top priorities over the past year has been to enhance its SI Partner Program so it rewards the partners that continually bring value to Conga's customer community. The program now consists of a rewards system that allows partners to earn points through engagement with both Conga and new customers. The system gives increased value to Conga customers by offering those partners more valuable benefits within the program.
"Having implemented Conga with our clients for many years, we see the release of their new partner program as a great step forward to improve collaboration, provide more relevant benefits, and ultimately, increase client success through the use of their innovative solutions," said Joe Karlsson, solution architect, Eide Bailly.
Significant channel growth has been a major focus for Conga in recent months. The enhanced SI Partner Program comes on the heels of strong continued growth of Conga's OEM Partner Program, which provides partners with the opportunity to embed Conga's cutting-edge solutions into their own tools and solutions to better simplify their customers' Salesforce experience. Both programs are designed to leverage relationships with partners and assist Conga customers with meeting their highly-targeted needs.
Interested in partnering with Conga? Find out how to join the SI Partner Program at getconga.com/about/partner-program
About Conga
Conga® developed its suite of enterprise-grade applications to help businesses using the Salesforce Sales Cloud optimize their CRM investments. The Conga Suite, which includes Conga Composer, simplifies and automates data, documents, contracts and reporting.
As a Salesforce Platinum ISV Partner, Conga is committed to providing its customers with enterprise-grade infrastructure, security and solutions. In fact, more than 8,000 businesses in 45+ countries across all industries rely on Conga applications to fully utilize their Salesforce data, including Hilton Worldwide, Schumacher Group and CBRE.
The company is privately-held and based in Colorado with global operations in the UK and Australia. Learn more at getconga.com or follow Conga on Twitter: @getconga.
Salesforce and others are among the trademarks of Salesforce.com, Inc.