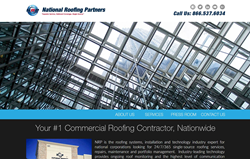 We are committed to providing a technology level experience for our customers.
Dallas, Texas (PRWEB) April 25, 2017
National Roofing Partners (NRP), the leading network of commercial roofing contractors in North America, is proud to announce the launch of their new mobile enhanced website. Offering ease of use for customers to find roofing information along with customer portals, the new site continues NRP's focus on technology efficiency for the contractor network and national customers alike.
The site provides an excellent user experience making it easy for customers to find valuable information including roofing terminologies and NRP customer service while also offering a customer portal with 24/7 access for facility managers, purchasing agents and all levels within national account facility management teams. The site also features an industry leading blog and podcasts sharing ongoing education for the building envelope space and overall trends.
"We are committed to providing a technology level experience for our customers," stated Dale Tyler, president of National Roofing Partners. "Our network of tier one contractors provides the best roofing services in the industry. At the NRP home office, it is our job to connect leading national corporations with these top tier contractors by utilizing technology that makes it seamless. We continue to focus on that experience understanding that the roofing the NRP network supplies is the best available."
For NRP customers, the portals accessed through the website offer a 24/7 glimpse onto the roof with imagery, inspections, work orders and budgeting features. The portals also provide around the clock service support making emergency calls as easy as clicking a button. Additional information on the use of portals for roofing services is available at http://www.nationalroofingpartners.com.
About National Roofing Partners
National Roofing Partners (NRP) was founded with the mission of continually improving the facility management capabilities of its customers by analyzing existing roof conditions, recommending and providing high quality single-source roofing replacements and services with dedicated support and technology. Building on the strong expertise of tier one commercial roofing contractors with over 120+ service locations and 8,000 employees nationwide, the network provides exceptional roofing and building envelope service and maintenance for customers. For more information, visit http://www.nationalroofingpartners.com.