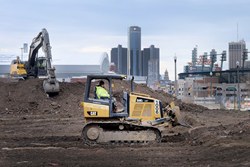 Detroit, Michigan (PRWEB) April 25, 2017
Detroit-headquartered, minority-owned construction firm, RBV Contracting, is being recognized as one of Michigan's 50 Companies to Watch, and will receive the Government Contractor of the Year Award at the 2017 Michigan Celebrates Small Business Awards Ceremony on Thursday, May 4, 2017 at 6 p.m. at The Lansing Center in Lansing, Mich. The thirteenth annual awards ceremony is presented by Michigan Celebrates Small Business (MCSB), in partnership with the Michigan Small Business Development Center (MSBDC).
"When founding RBV, our leadership team agreed on the basic principal of offering clients the best practices in construction management, derived from over 100 years of combined team experience. This foundation has proven successful in our industry, helping us establish ourselves positively with government clients and leading to excellent feedback," said Rodolfo "Rudy" Villarreal, President of RBV Contracting. "As a result, we have been directly awarded federal contracts totaling $9 million, and we are trusted to handle projects involving complex installations on active airfields and renovations of secure areas."
Michigan's 50 Companies to Watch honorees are known for their entrepreneurial leadership, innovative techniques, creativity in the workplace and sustainable competitive advantage.
"For us, innovation means working towards transforming the traditional thoughts about construction contractors. RBV strives to innovate simply by doing the right things everyday even when no one is watching," said Jim Foucher, RBV Contracting Vice President.
RBV Contracting has grown in recent years due to its hands-on approach towards assisting in the revitalization of Detroit's comeback. According to the Bureau of Labor Statistics, Wayne County is currently experiencing a 7.0 percent unemployment rate, which is the county's lowest rate in years.
Professional and business services had the largest increase in annual employment out of all employment sectors within Detroit, adding a total of 18,400 jobs to the city since September 2015. Specifically, jobs within the technical services industry, such as RBV Contracting, added nearly 11,000 jobs to the city since September 2015, alone. This increase equates to a 5.3-percent rise in employment within the professional and business services supersector.
RBV primarily looks to hire Detroit and HUBZone residents, in order to contribute to the city's comeback and to provide local jobs. Because of their devotion to the city of Detroit, RBV has received support from the Small Business Administration (SBA), Procurement Technical Assistance Center (PTAC), and PNC Bank.
"Clients rely on a direct relationship with our team, as RBV typically self-performs over 75% of the work on site. We offer each client a consistent RBV leadership presence on every project, including longer distance projects. We preach quality not quantity," said Foucher.
To be recognized as one of Michigan's 50 Companies to Watch, businesses must:

Be a privately held commercial enterprise that has not received the award in the past
Be past the startup stage
Employ 6 to 99 full-time employees
Have between $750,000 and $50 million in annual revenue or working capital from investors or grants
Have headquarters in Michigan
Demonstrate the intent and capacity to grow
Michigan's 50 Companies to Watch honorees were selected by Michigan-based judges from the banking, economic development, entrepreneurship development and venture capital communities.
In order to receive the Government Contracting Award, recipients must be a client of the Procurement Technical Assistance Centers (PTACs) of Michigan. Award criteria includes profitable product or service niche and previous awards received.
"Receiving these awards signify that patience, persistence and proficiency produces results," said Villarreal.
For information on the 2017 Michigan Celebrates Small Business Awards Ceremony, or to purchase tickets, visit: michigancelebrates.biz. For more information on RBV Contracting, visit: rbvcontracting.com.
###
About RBV Contracting, Inc.
Established in March of 2011, RBV Contracting is a full-service, 8(a) certified minority and HUBZone construction contractor, headquartered in Detroit, Michigan. RBV provides a wide variety of services from construction management, site development, underground utilities, landscaping and rehabilitation for commercial, retail, governmental and industrial projects. RBV serves a growing list of federal agencies including USACE, Air Force, National Guard Bureau and GSA.
About Michigan Small Business Development Center (MSBDC)
The Michigan Small Business Development Center is the managing partner of Michigan Celebrates Small Business in 2017. Michigan Celebrates Small Business was founded by the Michigan Small Business Development Center, Michigan Economic Development Corporation, U.S. Small Business Administration - Michigan, Edward Lowe Foundation, Chris Holman - Small Business Advocate, and the Small Business Association of Michigan. Michigan Celebrates Small Business presents Michigan 50 Companies to Watch.
Sources:
https://www.bls.gov/regions/midwest/summary/blssummary_detroit.pdf
https://www.bls.gov/regions/midwest/news-release/areaemployment_detroit.htm