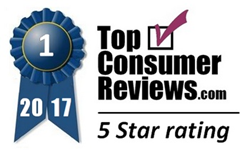 For those needing to file a patent application, LegalZoom is the logical choice and earns our top ranking for such services in 2017.
Overland Park, KS (PRWEB) April 26, 2017
TopConsumerReviews.com recently gave a best-in-class 5-star rating to LegalZoom, a leader among providers of Patent Application services.
Securing a patent may be the most important step in the invention process. After all, a patent is the only way to make sure that a creator gets the credit they deserve for the investment of their time and resources. Unfortunately, many people get bogged down in the paperwork required to file a patent application, leaving their inventions completely unprotected. However, there are a variety of online legal services that can significantly cut the time - and expense - required to register a patent. Today, filing a patent application can be a simple and affordable process.
"More than a million happy customers have used LegalZoom's services for a variety of legal documents, and their patent application process is easy and inexpensive," explained Brian Dolezal of TopConsumerReviews.com, LLC. "In just three short steps - complete an online questionnaire, create the application, and have LegalZoom file it - your invention or product can have full legal protection. LegalZoom has knowledgeable, helpful representatives available during business hours to help customers with any questions they have during the process, and their 100% satisfaction guarantee is just part of the reason that LegalZoom currently holds an A+ rating with the Better Business Bureau. For those needing to file a patent application, LegalZoom is the logical choice and earns our top ranking for such services in 2017."
To find out more about LegalZoom and other Patent Application services, including reviews and comparison rankings, please visit the Patent Application category of TopConsumerReviews.com at http://www.topconsumerreviews.com/patent-application/.
About LegalZoom
Co–founded in 2001 by attorney Robert Shapiro, LegalZoom offers a cost-effective, convenient way to address most common legal needs. LegalZoom provides a wide range of documents such as Patents, Trademarks, Powers of Attorney, Living Wills and traditional Wills, Incorporation, Living Trusts, LLC Formation, Small Claims, Divorce, and many more. However, customers should be aware that LegalZoom does not provide legal advice or counsel, as it is not an actual law firm.
About TopConsumerReviews.com
TopConsumerReviews.com, LLC is a leading provider of independent reviews and rankings of hundreds of consumer products and services. From Patent Applications to Mail Scanning and Company Incorporation, TopConsumerReviews.com delivers in-depth product evaluations in order to make purchasing decisions easier.