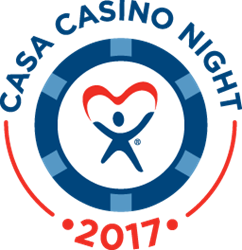 "Sentient joins CASA in calling on the community to take a stand against child abuse and help provide a voice for our most vulnerable citizens." - Adam Cossman, Sentient President & W2O Group Chief Digital Officer
Morristown, NJ (PRWEB) April 25, 2017
Morristown-based marketing agency Sentient (besentient.com), a W2O Group Company, is proud to sponsor the CASA fundraising event CASA Casino Night, at the Park Savoy in Florham Park, New Jersey, on April 27, 2017, from 6:00-9:30 PM.
The funds raised from the Casino Night will be used to train community volunteers to become advocates and mentors for children within the foster care system. This event also commemorates the 30th anniversary of Court Appointed Special Advocates (CASA) for Children of Morris and Sussex Counties, Inc. Over the past three decades, more than 5,500 children in the foster care system who were victims of abuse and neglect have experienced the life-changing difference a CASA volunteer can make. The CASA approach is both personal and individualized in that it trains volunteers to advocate for one child's best interests at a time within the court system.
"Sentient joins CASA in calling on the community to take a stand against child abuse and help provide a voice for our most vulnerable citizens," said Sentient President & W2O Group Chief Digital Officer Adam Cossman. "We have made an ongoing commitment to support CASA in any way possible and it's a cause that our people really believe in. I urge members of the community to join in any way they are able. It can be by attending this event, making a donation to CASA of Morris and Sussex Counties, or even becoming CASA volunteer advocates themselves".
CASA Casino Night promises to be a fun-filled evening of games, delicious food, an open bar, and networking while supporting advocacy for children in foster care. For more information on this event, please call CASA at (973) 998-7590.
ABOUT CASA
Started as a national organization in 1977, CASA programs soon arose in communities to address the needs of local children who have been removed from their homes or are under court supervision as a result of abuse, neglect, or abandonment. CASA trains community volunteers to advocate, mentor, and champion each child on her or his journey to a safe, permanent, and nurturing home. CASA volunteers also help ensure that each child has access to all of the services, including resources and programs, to which she or he is entitled. With approximately 950 US programs, CASA has helped more than 2 million children find safe, permanent homes in which they can thrive. For more information on CASA, please visit casamsc.org.
ABOUT SENTIENT
Since 2008, Sentient has provided services to clients in diverse industries, including life sciences, financial services, and consumer packaged goods. Sentient is now a part of the W2O Group, an independent, global network of marketing, analytics and communications firms delivering innovative integrated business solutions for the world's leading companies and brands. For more information on Sentient, please visit besentient.com.