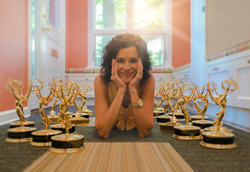 "This is my opportunity to surprise some of the people I've interviewed whose determination and perseverance are beyond extraordinary."
Pittsburgh, PA (PRWEB) April 26, 2017
Emmy Award-winning journalist Wendy Bell is hosting an "Evening of Thanks" on June 28th at The Palace Theatre in Greensburg. "This special community has been incredible to me this past year," Bell says, referring to the astounding success of her Facebook page, Positively Wendy Bell, as it continues its steady climb towards 100K followers. "The people of western Pennsylvania have wrapped their arms around this idea that there is good news all around us," Bell says. "And the historic Palace Theatre is the perfect place for us to come together and celebrate that positive energy our country really needs right now."
Bell won 21 Emmy Awards during her 18 years on Pittsburgh television but was deeply affected by the tragic headlines and negativity saturating local news. "Life isn't a nightly rundown of murders and crime and corruption," Bell explains. "There are so many extraordinary stories of everyday people doing remarkable things, so what are we waiting for?" Bell points to the incredible popularity of her stories and videos on Facebook, followed by fans all across the United States and in 60 countries. "People are hungry for GOOD news, for a reason to smile," she says. And that's what sparked Bell's idea to launch a positive news website called "PositivelyWendyBell.com." Bell says she'll unveil it, and introduce several people whose stories will be featured in it, live on stage at the Palace Theatre June 28th.
"This online community we're creating is so unique," Bell says. "There's nothing like it anywhere I've looked." She says PositivelyWendyBell.com's content is uplifting and inspiring, adding that in addition to stories about remarkable people and events, she's excited to launch a video series that explores the rich heritage and history of Pittsburgh's neighborhoods that highlights development, culture and the arts. "Too many of our communities are labeled dangerous or destitute, because those are the stories you hear on the news," Bell says. "But there's so much more going on there. We need to talk about THAT. And we will at "PositivelyWendyBell.com."
Bell's "Evening of Thanks" will feature a handful of people whose stories went viral on her Facebook page, reaching more than 10 million people. "Oprah and Ellen have these fabulous surprises for their very special guests," Bell explains. "This is my opportunity to surprise some of the people I've interviewed whose determination and perseverance are beyond extraordinary." Bell will ask her Facebook followers to weigh in on which charitable organizations should receive a significant portion of the evening's proceeds.
Wendy Bell's "Evening of Thanks" is Wednesday June 28th at 7:30PM, with a private VIP session before the show at 6:30PM. Tickets can be purchased at the Palace Theater box office or online at http://www.thepalacetheatre.org/concerts-events/.
To learn more, please visit https://www.positivelywendybell.com/the-palace-event.