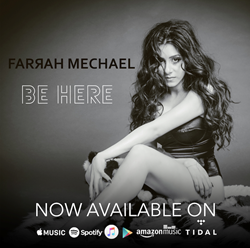 There is a Kygo-level of frequency... amidst a flurry of tropical and EDM tones, flying from her lips and crashing into your eardrums." - PopDust
New York, NY (PRWEB) April 24, 2017
Farrah has dropped her new single "Be Here" as premiered exclusively by tastemaker pop outlet PopDust. The track was produced by Peoples Garcia (who also produced "Trap Queen" by Fetty Wap) and you can listen to it HERE:
https://soundcloud.com/farrahmechael/behere
PopDust said of the contagious club anthem, "There is a Kygo-level of frequency through which [she] seeks redemption; by holding herself accountable, she weighs the relationship, her soul, her value amidst a flurry of tropical and EDM tones, flying from her lips and crashing into your eardrums."
"Be Here" is the second single from her debut EP "Farrah Please," which will be released Summer of 2017 under E.A.R./EMPIRE. In "Be Here," Farrah Mechael is asking her love would he still be there if she traveled the world doing what she loves to do, which is sing! "Be Here" was mixed by Grammy Nominated Engineer, J. Lacy and mastered by Grammy Award Winner, Tom Coyne.
The Detroit native tells PopDust of the track that she wants "everyone who hears it to feel as deeply and love as strongly and passionately as I do..[and] to follow your dreams and never stop being yourself."
Visit Farrah on Facebook, Twitter, and Instagram to stay in the loop!
https://www.instagram.com/farrahmechael/
https://twitter.com/farrahmechael
https://www.facebook.com/farrahmechael/
http://farrahmechael.com/