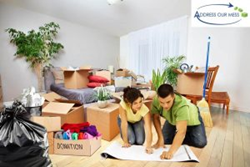 Address Our Mess is cleaning up emergency, time-sensitive situations in Philadelphia.
Philadelphia, PA (PRWEB) April 25, 2017
Address Our Mess is cleaning up emergency hoarding situations in Philadelphia.
For most people, clutter is just a normal part of everyday life. It's nearly impossible to keep a completely clutter-free household with work and personal responsibilities, but some situations go far beyond clutter and into hoarding. Once a home becomes a hoarding situation, everyday functions are impaired and it becomes a huge safety risk for people to live there.
Most hoarded homes are overrun with fire hazards, health hazards, sanitation issues, and more. Some of the most common accidents that happen in hoarded homes include trip-and-fall injuries, fires, and injuries from falling piles of clutter. If any of these emergencies occur, it's hard for professionals to access the home to help. Because of these kinds of safety concerns, there are a lot of government programs put in place that essentially force hoarders to clean up.
The most common forced hoarding cleanups come from city inspection officials, landlords, fire Marshalls, and social workers. Once these kinds of officials get involved, homeowners usually only have a short period of time before they either have to clean up the home or are removed.
Any hoarding situation should be resolved immediately for safety reasons, but once landlords or inspection officials get involved, the situation officially becomes an emergency. This spring, Address Our Mess is here to help clean up these kinds of time-sensitive situations in Philadelphia.
Address Our Mess's teams understand that forced cleanup situations are extremely stressful, so they set out with the primary goal of working with the homeowner to make them feel comfortable. Together they decide what should be kept, donated, and thrown away. Technicians haul away all trash, handle storage transportation, and take all donations to a charity of the customer's choice and in the customer's name, so no heavy lifting is required. After cleanout, the home may also need a deep cleaning that takes care of floors, walls, surface areas, and any gross filth or waste.
Address Our Mess is making sure homeowners won't lose their homes this spring. Philadelphia cleanup teams are turning this negative situation into a positive one that will give homeowners their comfort and safety back.
About Address Our Mess
Address Our Mess is a professional specialty cleaning company that handles hoarding, clutter, sorting, removal, and large organizational projects. The company has a mission to help give a fresh start to as many people as possible.